MSP voices concerns over autism services for adults in Grampian
Mark McDonald, who represents Aberdeen Donside, has written to NHS Grampian.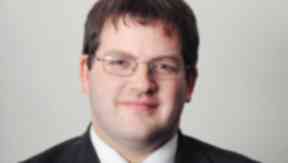 An MSP has expressed concern over changes to adult autism services in Grampian.
Mark McDonald, who represents Aberdeen Donside, has written to NHS Grampian to ask how many people are on the waiting list for help and how long they can expect to wait.
Mr McDonald, whose young son has autism, said: "I understand many local adults with autism struggle profoundly with their condition every day, with limited prospects of diagnosis or support in their local area.  "NHS Grampian has dispensed with the services of an expert diagnostician. Autism is a complex condition and concerns have been raised that this decision may result in increased difficulties for some adults to gain access to a diagnosis and post-diagnostic support services.  "I am concerned this may be an issue both in my Donside constituency and the wider Grampian area. In order to ensure that people with autism are getting the right support at the right time, I have written to Grampian NHS for confirmation of the current numbers of people on the waiting list for diagnosis and the average length of waiting time involved."
The Scottish Government has invested £13.4m in better targeting support for people with autism as part of the Autism Strategy for Scotland, which was introduced in November 2011. "Count us in," a nation-wide study conducted for the National Autistic Society (NAS) Scotland, found half of people with autism rated health professionals' understanding of the condition as "poor" or "very poor". One third said it had taken three years to be diagnosed while 42% reported the process was too stressful. Two thirds felt they did not receive enough support.
Robert MacBean, parliamentary and campaigns officer for NAS Scotland, said: "An estimated 58,000 people in Scotland have autism. It is highly likely every medical practice will have children and adults with autism on their patient register.
"But our 'Count us in' survey reveals GPs and health professionals often fail to recognise the signs of autism and the most effective ways to support the condition.  "Autism is a recognised disability. If someone meets the criteria, he or she should have the opportunity to be diagnosed and to receive the right post-diagnostic support at the right time.
"Whether a social skills group, support in education or employment, social and housing services or benefits, this can make the difference between someone with autism experiencing isolation, loneliness and associated mental health problems and leading a fulfilling life as valuable members of their communities."