Fishing boat that sank with 22,000 litres of fuel in harbour raised
The Banff-registered Prospect went down in Lerwick harbour after striking rocks.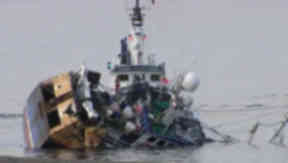 A fishing boat which sank after running aground in Shetland has been raised from the water.
The Banff-registered Prospect sparked concerns about pollution after it emerged it was carrying 22,000 litres of fuel when it went down on Monday.
Three earlier efforts this week to recover the vessel ended in failure, but a fourth attempt on Thursday, using divers with giant flotation bags, suceeeded.
The Prospect struck rocks known as Skibby Baa at the north end of Lerwick harbour at 6.45pm on Monday.
A coastguard rescue team plucked the crew from the sinking vessel before floating it off rocks and allowing it to sink. Nobody was injured.
Callum Grains, of Lerwick Port Authority, said: "Yesterday the dive team on site were able to do a super job and prepare the Prospect for lifting.
"That allowed us to take advantage of a really high tide in the early hours of this morning. She was lifted with air bags to give her enough buoyancy to take her off the bottom.
"Port Authority tugs then towed her from site into the quayside here where cranage from Peterson's was able to lift Prospect just clear of the water to allow the dive team again, with quite a large number of water pumps on board, to empty the compartments."