Plans unveiled to replace scrapped Union Terrace Gardens scheme
John Halliday has gained cross-party support for his plan to create a civic square above the city's railway station.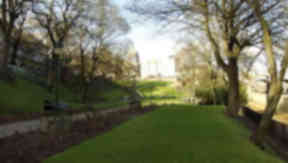 Political parties have backed plans by a leading architect to replace the controversially abandoned City Garden Project.
John Halliday, of Halliday Fraser Munro architects, has proposed building a civic square above the city's railway station, with the main entrance moved to Union Street.
Much of the Victorian gardens would be retained, but the Denburn dual carriageway and railway line would be covered over.
He said: "You have a city square where you can have markets, you can have gigs, you can have demonstrations if you wish. You can meet people there."
The plan has won the approval of the council's two largest political parties, but it is not known if businessman Sir Ian Wood is prepared to back the project.
Sir Ian's £50m funding pledge was instrumental to the original plans to reshape Union Terrace Gardens, which were scrapped when Labour took control of the council last year.
The previous SNP-led administration had held a referendum which came out in support of the £140m project.
Deputy council leader Marie Boulton described Mr Halliday's scheme as a "transformational project".
She said: ""I think he's grasped the nettle. We have problems particularly with the access into Aberdeen through the train station, whether it's pedestrian or vehicle access, and I think [the solution is achieved] by getting footfall back onto Union Street."
SNP group leader Callum McCaig said: "We were obviously in favour of the City Garden Project. We felt that that would have delivered the transformational change and obviously had the mandate from the people.
"The most important thing is that we deliver a real, vibrant beating heart in the city centre. I think this has got a real possibility of achieving that."