Warning alert on two North Sea helicopters in space of three days
The two choppers have been grounded in the last week after warning lights went off.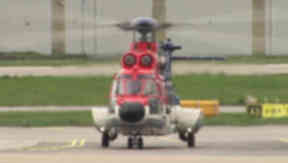 A warning alert appeared on two helicopters in the space of three days just weeks after an aircraft ditched into the sea off Shetland killing four people.
The Bristow-operated Sikorsky S92 chopper was 90 miles off the coast of Scotland on Saturday morning when an indicator flashed, forcing the pilots to head straight back to Aberdeen International Airport.
Emergency services and the coastguard were put on standby as they waited for the aircraft and it landed safely at 11.50am with all 19 passengers on board unhurt.
A CHC-owned Super Puma EC225 helicopter was also grounded overnight on Total's North Alwyn platform on Thursday after a temperature indicator light came on.
A spokeswoman from Bristow would not say what the problem was, because they were still waiting for a report back from the engineer.
She said: "Bristow Helicopters can confirm that one of its S92 helicopters had cause to return to base as a precautionary measure and in accordance with company procedures, following a caution light indication.
"With a total of 19 passengers on board, the return flight and subsequent safe landing back at base was uneventful.
"The aircraft has since undergone routine engineering inspection and rectification and is expected to return to service today."Flight safety remains Bristow's first priority."
A spokesman from Aberdeen Coastguard said: "We were aware of the helicopter coming back. We got the call at 11am. We were ready to respond if needed."
A spokeswoman from the Scottish Fire and Rescue Service said three appliances had been sent out.
However she said: "We did not do anything, we just stood by."
The news comes less than a month after a Super Puma L2 model crashed into the North Sea off the coast of Shetland, killing four.