Scots secondary pupils vote 'No' to independence in mock referendum
Pupils at secondary schools in Aberdeenshire voted overwhelmingly against independence by 8,718 votes to 2,847.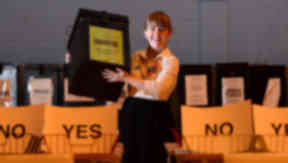 The Yes Scotland campaign has been dealt a blow after thousands of schoolchildren voted no in a mock referendum exactly one year before the official vote.
In total, 11,653 secondary school pupils in Aberdeenshire took part in the vote on Wednesday. A total of 8718 voted against an independent Scotland with 2847 voting for independence, with a turnout of 79.9%.
The results mean that 75.3% of school children do not support the notion of independence. Only Carronhill School in Stonehaven, voted in favour of independence by eight votes to five.
Anna Ritchie School, in Peterhead, and Westfield School, in Fraserburgh, had an equal vote of 13-13 and 7-7, respectively.
Peterhead Academy sixth year pupil James Hall, 17, voted no and he said this was a big victory in the lead up to next year's vote on September 19.
Speaking from the count venue at Meldrum Academy, Aberdeenshire, he said: "I think this is a big blow to Alex Salmond, he did the wrong thing by allowing this to happen - they've shot themselves in the foot.
"Clearly from what we've seen from this vote people are going to vote no when it comes to the real date. I voted no because I believe it's right that we should remain part of the UK - we've been part of it for 300 years and I see no reason why we should stop.
"We are part of the UK family and that's the way it should be. The SNP want to run the country off the oil that we produce but the UK is our safety net and they can help us out. When the oil runs out we're scunnered."
Sarah Millar, 14, from the Gordon Schools in Huntly, voted yes, and she said she was still confident that Scotland would support independence this time next year.
She said: "The voting results made by the schoolchildren of Aberdeenshire are not great, but I believe the SNP can convince more people to vote yes over the next year and we can become independent.
"Independence is the right decision for future of Scotland. Being together is not beneficial for us and independence would mean all our money would stay in our country.
"England is getting too much money from our oil supplies when we should have it all to ourselves."
The mock referendum took place following months of pupils from Aberdeenshire secondary schools learning all about the issues involved and all sides of the debate before voting on Tuesday and Wednesday.
Some of them will be able to take part in the referendum on independence for Scotland for real when it takes place next year.
Depute Counting officer Alan Bell said: "The whole purpose of this event was to inform the schoolchildren of Aberdeenshire about the whole process of voting. Everything was conducted in exactly the same way as the referendum will next year."
Education Officer, Andy Ritchie, said: "This event has been another great success in engaging young people in the electoral process and will hopefully impact on electoral participation in the area in the future.
"The hard work and commitment of pupils and staff is really commendable and the feedback we've received on this in terms of the educational benefits has been excellent.
"Most of all, the young people have really enjoyed the experience and hopefully have a much better grasp of how democracy works and why it is important to participate if you want your views to be represented."
Maria Walker, Aberdeenshire Council's director of education, learning and leisure, said: "By staging elections activities within Aberdeenshire secondaries, we hope to encourage young people to recognise the importance of participation in terms of how they can make their own views count in a democracy.
"This is another strand in our ongoing programme to encourage participation in, and appreciation of, voting and democratic structures."