Police sniffer dog named Rebus catches £250,000 cocaine courier
George Caulfield was caught with the drug haul as he got off a train from England in Aberdeen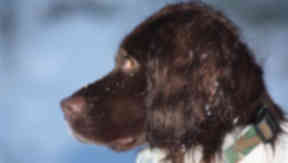 A drug courier caught with cocaine worth more than £250,000 as he tried to avoid a police dog called Rebus was jailed for more than three months.
The animal, which shares the name of Ian Rankin's fictional detective, was deployed along with officers as part of a drugs scanning team at Aberdeen railway station when George Caulfield arrived on a train from England.
Caulfield, 32, was seen to disembark and head towards an exit carrying a holdall, the High Court in Edinburgh heard.
Advocate depute Murdoch MacTaggart said: "When the accused saw a constable and Rebus actively scanning passengers he shouted 'I've left my phone on the train' and turned round and walked back.
"Other officers were alerted to Caulfield's behaviour and he was seen heading for another platform apparently trying to avoid making contact with Rebus and his handler.
"Police pursued him as he made his way towards a train for Dyce and Rebus gave a positive indication that he was in possession of drugs."
Caulfield, of Cuttholme Road, Chesterfield, Derbyshire, said he had smoked cannabis a few hours before.
He was detained and told police: "I wouldn't lie to you. I've got stuff in my bag. I was made to take it up."
Two taped packages of cocaine were found in a football top in the holdall he was carrying. One package contained 1.2 kilos of heavily adulterated cocaine which if sold in gram street deals had the potential to make £85,000.
The second was found to hold 300g of the drug of such high purity that it was considered to be importation level cocaine.
The smaller, 59% cocaine had the potential to be bulked out with agents such as benzocaine to provide 2.3 kilos of the drug for street sale, which would have a maximum value of around £170,000.
But Mr MacTaggart said there was an alternative way of selling the higher quality cocaine.
He said: "There is a limited market in the Grampian area for high purity cocaine at user level. The price for such high quality product is open to negotiation and there is limited intelligence available to provide accurate valuations."
He said intelligence from the area indicated that very pure cocaine could be sold in gram deals for up to £120, approximately three times the value of street deals in a heavily adulterated form of the drug.
Following Caulfield's arrest he was freed on bail at Aberdeen Sheriff Court with a condition that he leave the city and did not return except for legal meetings and court appearances.
Caulfield earlier pled guilty to being concerned in the supply of the Class A drug on October 25 last year.
His counsel Steven Borthwick earlier told the court he was the registered carer for his partner's daughter who suffers from a degenerative condition. He said a background report prepared on him said he appeared genuinely remorseful and there was nothing to suggest he posed a risk to the public.
The judge, Lord Burns, said he had regard that the partner's daughter has a terminal illness.
But he said he could not overlook Caulfield's involvement in the transportation of a "substantial quantity of drugs". He added: "I can accept it is a one-off occurrence and out of character for you."
Jailing him for 40 months he said Caulfield would have faced a four and a half year jail term if it was not for his early guilty plea.