Aberdeen rappers' latest hit covered by YouTube sensation
Internet star Keenan Cahill gives his unique take on a new single by Aberdeen's twin rappers SHY & DRS.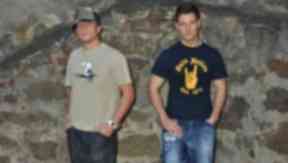 Two rappers from Aberdeen have had their latest single covered by internet sensation Keenan Cahill.
Cahill, who shot to fame after posting videos of himself lip-syncing to a string of hit songs, has now featured the lyrics of Granite City rappers SHY & DRS in his latest work.
The American teenager, who has a rare genetic disorder called Maroteaux-Lampy Syndrome, has attracted a huge following with his videos receiving more than 300 million hits.
His animated videos recorded on his webcam in his bedroom have led to lip-syncing sessions with rapper 50 Cent as well as performing live on stage with David Guetta.
And SHY & DRS – twins Mark and Darren Scott – say they are honoured that Keenan has given his own unique take on their song Relapse, which also features vocals from former X Factor contestant Luke Bingham.
Mark Scott said: "We are delighted with Keenan's video. It all came about through our management after he was sent one of our albums. He really liked it and chose to put a video together to Relapse.
"We saw it online for the first time today and it looks great. One of his last videos got more than 150,000 hits in less than a week so hopefully this one proves just as popular."
The 26-year-olds began rapping in 1999 and became the first hip hop act from the United Kingdom to land an international record contract in 2008 when they signed with Canadian label Awe Records.
Now under new management, the former Oldmachar Academy pupils are releasing their new album, which features Sandi Thom, D-12 and Scottish rock band Nazareth, next year.
Watch the video featuring Keenan Cahill and Aberdeen rappers SHY & DRS.