Cutting days fishermen spend at sea would 'cripple' industry
Maintaining days-at-sea allowance and securing cod catch increase are key priorities says Lochhead.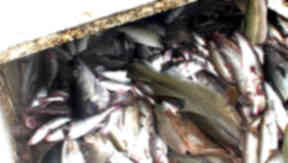 EU proposals to cut the number of days fishermen can spend at sea would "cripple" Scotland's fishing industry, the Rural Affairs Secretary has said.
Fisheries ministers from across Europe will meet in Luxembourg on Thursday, where Richard Lochhead will argue for an increase in the Total Allowable Catch (TAC) and no reduction in days allowed at sea.
Mr Lochead said these would be his "key negotiating priorities" in the run-up to crucial talks for the industry later this year.
"Preventing a cut to days-at-sea allowance and, if the science supports it, securing an increase in cod TAC, are two of our key negotiating priorities as we enter this important phase leading up to the crunch Fisheries Council in December," he said.
"And I will be doing everything I can to secure a favourable outcome for Scotland's fishermen."
If fishermen had their days at sea cut, there is a danger they would not be able to catch the amount of fish allocated to them, Mr Lochhead argued.
"One of the most simple and indisputable issues in fishing is that fishermen need to be able to go to sea to catch the quota that has been allocated to them. By cutting the days they are able to go to sea, we risk them not being able to do that and, at a most basic level, that is a ridiculous situation to get ourselves into."
Cutting the time fishermen spend at sea could be damaging to fish stocks, as boats would not be able to fish selectively.
"A reduction to days-at-sea allocation also has a significant economic impact on fishermen and prevents them from fishing selectively due to the reduced time at sea available which is therefore detrimental to fish stocks, clearly not what EU ministers want to achieve. So I will be arguing hard for an effort freeze," Mr Lochhead said.
The Rural Affairs Secretary went on to describe the proposed cut the amount of cod Scotland's fishermen would be allowed to land as "deeply concerning".
Mr Lochhead expects scientific advice due to be published soon "will continue to show significant recovery in cod stocks", arguing that if stocks are increasing, a cut in the quota would only achieve an increase in discards "which is the very thing we are aiming to eradicate through recent Common Fisheries Policy reforms".
He stressed: "It is vital to our success in reducing discards that we take a sensible approach, in line with the science, to managing fish stocks. And again, it is important we don't end up getting the opposite result from what council wants to achieve."