New fisheries minister meets skippers amid row over mackerel quotas
Talks to solve the dispute over catch numbers broke down on Thursday.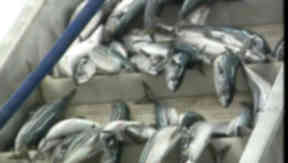 The new fisheries minister George Eustice has met skippers, as an international dispute over mackerel catches continues.
Mr Eustice has been in the job for two weeks and visited Peterhead on Thursday.
He was accompanied by Scottish Secretary Alistair Carmichael, and met industry leaders while he was in Scotland.
It was the first visit he's made to a regional area.
Mr Eustice said: "I'm from Cornwall, I'm not just some London MP, I'm from Cornwall, we've got a fishing industry.
"We know a thing or two about fishing down in Cornwall as well, and I know all the challenges fishermen face.
"There's a lot of similarities and I'm going to be a champion for this industry."
Fishing leaders stressed that, despite cuts in recent years, catching fish still nets half a billion pounds for the Scottish economy.
Bertie Armstrong, from the Scottish Fisherman's Federation said: "We are the heavyweight, further reaching, big tonnage, big economic input part of theindustry, so we're glad he's here.
"There are many issues to be dealt with, we're working our way through these with him but the first thing we would recognise is his willing visit here first off and talked to us, we're delighted by it."
The long running dispute over mackerel was high on the agenda.
Talks held in London between EU officials and representatives from Iceland and the Faroe Islands broke up on Thursday.