Trump triumphant after Blackdog offshore energy substations refused
Two electrical stations in Blackdog will not be built after campaign backed by Donald Trump.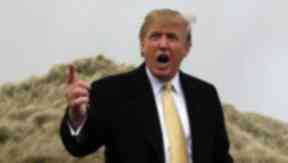 Residents of an Aberdeenshire village have been told that plans to build two electricity substations in their community have been scrapped.
The substations in Blackdog were to be part of Swedish energy firm Vattenfall's proposed European Offshore Wind Deployment Centre (EOWDC) in Aberdeen Bay.
Villagers had mounted a campaign against the substations, asking why the small coastal town had been targeted as "an industrial dead zone". In total, 62 of the village's 85 residents had written letters protesting about the development.
Their concerns had been picked up by US tycoon Donald Trump, who said the proposal was "unlawful".
The billionaire has opposed the EOWDC, which would be offshore from his Menie Estate golf course, since it was first announced.
Earlier this month, Aberdeenshire Council planning officers recommended that councillors give planning permission in principle for the pair of substations to be constructed at Blackdog.
But on Tuesday the Formartine Area committee refused the application, a decision which could spell the end of the whole EOWDC project.
Nicola Brown, who ran a campaign against the construction, told STV: "This is wonderful news and we are over the moon. Our protests have been listened to and we are very happy."
However, EOWDC project director Ian Todd described it as a "missed opportunity" for the region.
He added: "We will give careful consideration to the formal reasons for the decision before we decide our next steps."
Trump celebrated the announcement on Twitter, saying: "Alex Salmond suffered a huge defeat by the people of Blackdog. Communities all over Scotland are fighting this loser.
"Alex Salmond of Scotland may be the dumbest leader of the free world. I can't imagine that anyone wants him in office."