Council to face campaigners in court over closure of seven libraries
Moray Council is set to close seven of its 15 libraries in a move to save almost £400,000 a year.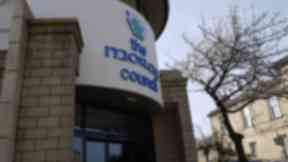 A council will face anti-cuts campaigners in court over a plan to close seven of its 15 libraries at the end of November.
The Save our Libraries Moray group is seeking a judicial review at the Court of Session over the local authority's decision to shut the libraries at Burghead, Cullen, Duffton, Finechty, Hopeman, Portknockie and Rothes.
A mobile library would also close in a move that Moray Council said would save around £375,000 a year.
Campaigners say the closures would have a devastating effect on communities and said the "only road remaining" was to fight them in court.
Save our Libraries Moray's chairman Alistair Jeffs said: "It is a sad day when we are forced to make a legal challenge against the council administration that should be representing and protecting us.
"The libraries are a lifeline to users across the community from pre-school groups, adult learning groups and the elderly. They help with education, give access to reading material, allow development of free thought, support our heritage and culture, provide access to computers, access to jobs; the list of benefits are endless."
Mr Jeffs claimed the direct savings from the closures would amount to just £70,000 and said the legal challenge would be a "test case for the whole of Scotland".
He added: "We strongly believe that the administration has systematically and blatantly ignored its own legal experts, equality officers, library staff, its public consultation and its Equality Impact Assessment. We strongly believe the administration has broken the law.
"We are now united in the belief that there remains only one road available to us, and that is to take our case to the Court of Session. This decision is based on a sure belief that our case is a compelling one; it is supported by legal advice from the Advocates Library in Edinburgh - that advice outlines several grounds under which the Moray Council decision can and should be challenged.
"These grounds include a breach of the public sector equality duty Moray Council has under section 149 of the Equalities Act 2010, a failure by Moray Council to take into account material considerations and a failure by them to consult in breach of legitimate expectations. If it takes £100,000 and 100,000 signatures we will not allow our libraries to be closed.
"Whatever it takes, whatever it costs, the administration will be subject to the law and the democratic will of the people of Moray."
'Short-sighted'
The Council's SNP Group Leader, Cllr Pearl Paul, said: "I welcome the decision by the campaigners for Moray's libraries to challenge in court the appalling decision taken by Independent and Tory Councillors to shut seven libraries and halve the mobile library service.
"The Independent and Tory Councillors seem to have no clue about the range of facilities and services that communities have access to in our libraries and no clue about the damage this short-sighted move will cause.
"With this motion to the next Council meeting we are giving them the opportunity to ditch the closure plans and focus on other savings options that they have so far failed to take forward, despite the Council leader having now presented a total of six budgets."
Richard Lochhead, MSP for Moray, said he welcomed the legal challenge to the closures.
He said: "I have been inundated with messages about the decision taken by Moray's Independent and Tory Councillors and I strongly believe that they have taken the wrong decision and it will have a completely disproportionate impact.
"The Council's administration should now reconsider their wrong decision to close seven libraries, which has been roundly condemned by local communities, prominent authors and many others. They should accept they are wrong and back down rather than taking further financial and reputational damage by fighting this court challenge."
And Moray MP Angus Robertson MP said: "Libraries are at the heart and soul of our local communities and to close them is complete folly.
"The Moray Council's Independent and Tory Councillors should look long and hard at themselves and consider whether the comparatively small amount of savings being achieved is worth the damage this will do to communities."
Moray Council said it would set out its position in a statement later on Monday.