Remains of last man hanged in Scotland moved before prison closure
The grave of Henry John Burnett at HMP Aberdeen is to be moved before the closure of the prison.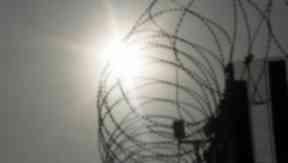 Prison chiefs are in talks with the family of the last man to be hanged in Scotland as they prepare to move his remains.
Henry John Burnett was executed at HMP Aberdeen, formerly known as Craiginches, on August 15, 1963 after being found guilty of murdering his lover's husband.
The 21-year-old was the only man to be subjected to death by hanging at Craiginches, but with the site set to close in January, the Scottish Prison Service (SPS) are hoping to remove Henry's remains.
Earlier this year prison bosses revealed they wanted to ask permission to move Henry's body and after tracing his relatives they are now in discussion before inmates are transferred from Aberdeen to the new "superjail" in Peterhead, HMP Grampian.
An SPS spokeswoman said: "We're currently preparing plans for the decommissioning of HMP Aberdeen following its closure in January 2014.
"We are aware there is a grave located within the grounds of the prison and the establishment was recently contacted by a relative of the individual buried there.
"We will continue to keep them informed as the decommissioning of the site progresses to ensure the removal is handled appropriately."
Burnett was given the death penalty after shooting and killing Margaret Guyan's sailor husband, Thomas, on May 31, 1963.
He had been having an affair with Margaret, and even killed Thomas in front of her by shooting his victim in the head with a gun he stole from his brother.
After the murder, Henry proposed to Margaret and she accepted, but just minutes later he was caught by the police and when interviewed he stated: "I gave him both barrels, he must be dead".
Burnett would later claim insanity during a two-day trial in July that year and his mother, Matilda, said he had once tried to commit suicide after threatening one of his sisters with a knife.
But the jury did not believe his story and found him guilty, leaving Margaret heartbroken as she still claimed to love Henry despite his gruesome killing of her husband. She was allowed to spend 30 minutes with Henry on the day before his death.
On the morning of August 15, 1963 Burnett was taken to the gallows at Craiginches to be met by hangman Harry Allen, who pulled a lever as the clock struck 8am, opening a trapdoor beneath him and sending him to his death in front of 300 onlookers.