Doctors 'failed' mother who died days after giving birth to baby
Leslie Cowie died after suffering from liver complications following the birth of her daughter Grace in 2007.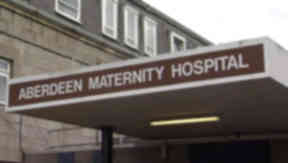 Doctors failed in their duty of care to a mother who died from liver complications just days after giving birth, a fatal accident inquiry has heard.
Lesley Cowie, 31, died after suffering internal bleeding following the birth of her daughter Grace in 2007.
She lost her battle for life a few days after she underwent an emergency caesarean at Aberdeen Maternity Hospital.
On Monday liver specialist Dr Mervyn Davies said medical staff had committed a "breach" in their duty of care while giving evidence at the hearing.
He said Mrs Cowie's liver problems, involving lumps that were first noticed nearly a decade before her death, should have been "red flag" for doctors.
Dr Davies said: "I think she was looked at as a normal young lady. But in fact she was a young woman with bombs inside her capable of going off.
"I do not think she was flagged up as high risk. In this situation you have to assume the worst case. Risk of haemorrhage was not at the front of the doctors' minds. In my opinion there was a breach of care in this case - in my opinion there was negligence in this case."
Doctors giving evidence earlier this year at the FAI at Aberdeen Sheriff Court said that there had been concerns about Mrs Cowie's liver going back nearly a decade. She had undergone tests in 1998 for nausea and vomiting. An ultrasound in March that year uncovered nodules on her liver.
Mrs Cowie's health deteriorated a few days after giving birth to her baby in October 2007. She suffered internal bleeding and cardiac arrest during which her heart stopped for 45 minutes.
She underwent surgery for an abdominal haemorrhage and was put on a life support machine before she died. A post-mortem examination later revealed that the haemorrhage was linked to a form of benign liver tumour.
Earlier in the inquiry doctors gave evidence that the lumps were in fact focal nodular hyperplasia (FNH). But Dr Davies said in his opinion it was more likely that the growths were adenomas - capable of growing and rupturing during pregnancy.
This would explain why doctors noticed that the lumps were bigger in 2007 - as the pregnancy was affecting Mrs Cowie's hormone levels.
Dr Davies said: "The adenoma is much more rare and much more sinister. During pregnancy they can grow and they can rupture.
"They noted that the lumps had increased which is not typical of FNH. It was noted that the lesions may be adenomas. It's a rare situation. People who are known to have adenomas are advised not to get pregnant."
Dr Davies, who has 17 years experience as a lead clinician in the hepatology department in Leeds, said this should have put Mrs Cowie, who also had diabetes, in the "super high risk" category.
He said: "With FNH one would assume there is no risk of bleeding. With adenomas there is a very high risk of bleeding. He or she has to consider that there may be bleeding. Firstly it should have rung alarm bells and and secondly there should have been a red flag system."
Mrs Cowie's husband Christopher told the hearing earlier in the year that the most exciting time of his life turned to tragedy after his wife's repeated pleas for help fell on deaf ears.
He claimed that he told medics that his wife's post birth pain was similar to what she had experienced when she underwent a liver biopsy several years earlier.
He also claims she was denied a scan in her final hours as it was a bank holiday weekend and the process was only available during normal working hours. And he said no effort was made to speak to a liver specialist despite doctors knowing her medical history.
Dr Davies said medical staff should have known of the risk of internal bleeding from the nodules on her liver. He said if she had been flagged as having a high risk of bleeding following the birth of her child then efforts could have been made which could have saved her life.
Instead Dr Davies, who wrote a follow-up report on the incident, said medical staff failed to establish what was causing Mrs Cowie's pain and finally her death.
During cross-examination Dr Davies was challenged over pathology reports which stated that the lumps were FNH - not adenomas. The doctor said he could not challenge the post-mortem findings but said if the lumps were FNH then they did not behave in a "typical" fashion.
The inquiry is expected to continue later this month.