Skipper of Trawlermen fame takes fishing fight to London
Jimmy Buchan has sailed to London to promote Scottish fish.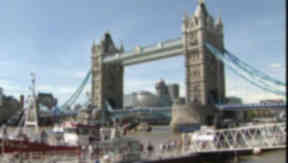 A north east skipper has taken his campaign to promote Scottish fish to the heart of London by sailing his boat up the River Thames.
Jimmy Buchan, star of television series Trawlermen, docked the Amity 2 next to Tower Bridge as part of the protest against discarding fish at seas.
The Peterhead boat eventually made its way up the River Thames after travelling 450 miles, on Wednesday afternoon.
Mr Buchan is raising money for the charity The Fishermen's Mission which fights poverty and despair in fishing communities by providing help to their families.
The charity is a support system to the 13,000 men and women work in deep sea fishing. At sea, they face death and injury on a daily basis and on land, many face insecurity and debt. The aim of The Fishermen's Mission is to help the lives for the 50,000 retired fishermen and their dependants as there is no respite from hardship once the fishing's over.
Mr Buchan is promoting his new book Trawlerman about life at sea, which he calls "the tougest job in Britain". He is also showing his support for the Scottish fishing fleet.
The skipper said: "What I always say to people is what kind of fish do you really want? What we can produce is wild cod, a great Scottish fish.
"But when you are buying fish in the supermarket do you check if it is from a sustainable source? That's the kind of things we are starting to lead with in Scotland.
"Our haddock is now MSC accredited and we are hoping that our langoustines will be the same this year. So we are starting to tick the boxes that are important to the consumer.
Mr Buchan's arrival in London co-insides with a campaign by the celebrity chef Hugh Fearnley-Whittingstall who is in Brussels trying to persuade the European Parliament  to change the rules on quotas and discards - throwing back fish which is illegal to catch.
Mr Buchan will be berthed next to Tower Bridge for four days and during that time his trawler will be open to the public . He is also hosting a barbeque for 30 top London chefs to try to persuade them to buy Scottish fish.