Stonehaven Nippy Dip returns
Brave volunteers sough to raise cash for Clic Sargent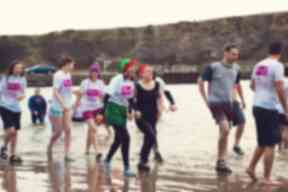 A children's cancer charity is looking for brave volunteers to dash into the North sea on New Years Day.
Clic Sargent is holding its third annual Nippy Dip after nearly 50 people took part last year.
Event organiser Jo Robinson said: "We've got nine people signed up just now and were hoping to beat last year's 50.
"Every year we seem to get more people and lot more spectators. I think it is getting better known and we get a big crowd to turn out and watch.
"Last year it raised just over £19,000 so we are hoping to break £20,000 this year."
Michael Hopkins started taking part when the event began back in 2009, as part of a team with the Stonehaven and District Lions Club, and this year will be taking part with a crowd of friends.
"It's a great way to celebrate the New Year and raise money for a good cause at the same time," the 28-year-old from Peterculter said.
"I will be leading the Dippers in an aerobic warm-up this year, before we take the plunge at 2.30pm."
All dippers will receive a Clic Sargent t-shirt and refreshments after the dip including a nip to help warm the older volunteers.
To register, download the registration form and return to Jo Robinson, CLIC Sargent, Regent House, 36 Regent Quay, Aberdeen, AB11 5BE.
For more information phone 01224 288960, text DIP to 07795 022457 or email Mr Robinson.
Under-18s require parental consent to take part and a responsible adult present with them on the day.