Porridge is secret to long life for Scotland's oldest woman at 108
Pensioner Jessie Gallan, who is 108 years old, has a bowl of salty porridge every day.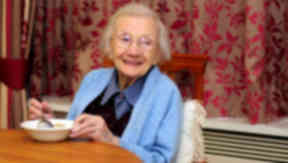 Jessie Gallan has become the oldest woman in Scotland at the grand old age of 108 thanks to a bowl of porridge every day.
The chirpy centenarian, from Aberdeen, celebrated the landmark occasion with a big lunch and a slice of cake after her birthday on January 2.
But the country girl, who was raised on the farmlands of rural Aberdeenshire in Kintore, remains unflustered about her lofty years.
She said on Wednesday: "Ach, I've never known any different. All I would say is that I like my porridge. I have all my life."
Born in 1906 in a tiny two-room cottage on a farm in Kintore, Jessie had a simple upbringing with five sisters and one brother, sleeping top-to-tail every night on a straw-filled mattress.
Her family rarely had a penny to spend, but Jessie said her childhood was filled with happiness.
She said: "My mother fed us, made all our clothes and my father worked the cattle. There was nothing to worry about. I never worried about anything. We never had any money but we were all very happy."
When she grew up, Jessie left school to work in a farm kitchen, before moving to the city.
Jessie, who never married, started a housemaid's job at the home of a wealthy businessman in Aberdeen's Gray Street.
A country girl at heart, Jessie soon moved back to Aberdeenshire to work in the service sector.
She started work as a waitress at the Lauriston Hotel in Ballater, where she said the visit of Queen Elizabeth and the Queen Mother each year was the highlight of the season.
She said: "We always waited to see the Queen when she arrived at Ballater on the train."
Jessie remained there for ten years, but determined to make a better living for herself, she moved back to the city to work in the dining rooms of Aberdeen's finest townhouses.
Despite all her travelling, one thing remained the same - a bowl of salty porridge every day.
Jessie said: "The toffs took their porridge - and we took ours the same."
The independent woman is now living at Crosby House care home in Aberdeen where she is a popular character with residents and staff.
Gillian Bennett, a senior support worker at the home said: "Jessie is a lovely woman. She has got her best friend here, Sarah Jane, and they are always together.
"She likes her music and likes her exercise class and is a very independent person. She is always walking about."
Jessie is Scotland's oldest woman after the passing of 109-year-old Glaswegian Clare Dawson last year.