Offshore helicopter safety to be examined by MPs after fatal crash
The Transport Committee will hear evidence from operators, manufacturers, union officials and representatives of the oil and gas companies.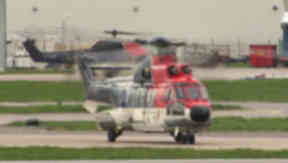 MPs are to hear evidence on offshore helicopter safety after a fatal crash in the North Sea last summer.
The Transport Committee will hear from operators, manufacturers, union officials and representatives of the oil and gas companies.
Members of the committee are travelling to Aberdeen on Monday after accidents in the industry became a "major cause for concern".
Among those giving evidence is CHC, who operated the Super Puma which ditched into the North Sea off Shetland in August, killing four people.
Duncan Munro, 46, Sarah Darnley, 45, Gary McCrossan, 59 and George Allison, 57 died in the crash.
Louise Ellman MP, the chair of the committee, said: "Helicopter accidents in the offshore sector is a major cause for concern.
"After the events of last summer involving helicopter fatalities off the Shetland Isles, the Committee decided to look closely at what might be done to curb the risks that offshore workers face from helicopter transport.
"We are coming to Aberdeen to hear from workers themselves, oil and gas firms, helicopter manufacturers, operators and pilots."
It comes as a fatal accident inquiry into the 2009 Super Puma crash which killed 14 oil workers and two crew continues in Aberdeen.
John Taylor, regional industrial organiser for the union Unite, said workers still did not feel able to raise safety concerns.
He said that in the wake of the crash unions had received hundreds of emails from people, all of whom had asked for their name not to be mentioned.
He said: "Everyone says you can refuse to do the job. As trade union officials we represent people who have refused to do the job and then they are suddenly dismissed.
"There is an environment still offshore where people have concerns about raising safety issues. This is an issue offshore and it's a concern offshore.
"The argument is do you get the oil out safely or safely get the oil out? What's the first bit, is it safety or the contract? And I believe that commercial pressure is operating in the industry."
Steve Todd, national secretary of the RMT union, said: "We believe there are commercial pressures. We can't prove it categorically but as we've said in our submission a public inquiry or judicial review looking into every aspect of the operation might tell us differently, and that is why we've called for that public inquiry."
But the claim was disputed by Mike Imlach, director of Bristow Helicopters, who said: "I can honestly say we've never been under commercial pressure where we've felt it's unsafe to continue a flight.
"If I don't have the full parameters of safety and crews and aircraft we will not fly irrespective of commercial pressure we may have seen from a client."
Last week, the Air Accidents Investigation Branch (AAIB) published a special bulletin into the accident, which highlighted a concern about "incomplete information" in pre-flight safety briefing material on emergency breathing systems (EBS).
Committee chairwoman, Labour MP Louise Ellman, asked the witnesses whether what was contained in the bulletin was evidence of complacency.
Mr Taylor said: "I think it's quite clear that this is part of the problem that we face. When things that went wrong are discovered, there seems to be an argument to say that it's no one's fault.
"It must be complacency and for those people who were involved in drawing that up there is a mistake being made.This is a very important piece of equipment that was brought in to help save lives.
"Part of the problem is the industry in some areas regulates itself. Some of the recommendations given previously have not been enforced within the industry and that is a mistake and that is down to weak regulation."
But Duncan Trapp, vice president of safety and quality for CHC Helicopter, said: "I wouldn't agree with the term complacency.
"I believe there is a comprehensive briefing in place and the recommendation to further enhance that has been made and adopted by all the operators in question."
Luke Farajallah, managing director of Bond Offshore Helicopters, said: "I believe the procedures that are in place are extremely comprehensive."
Feedback: We want your feedback on our site. If you've got questions, spotted an inaccuracy or just want to share some ideas about our news service, please email us on web@stv.tv.
Download: The STV News app is Scotland's favourite and is available for iPhone from the Apple store and for Android from Google Play. Download it today and continue to enjoy STV News wherever you are.
Join in: For debate, chat, comment and more, join our communities on the STV News Facebook page or follow @STVNews on Twitter.