'Sea monster' carcass found on beach is pilot whale
A couple made the strange discovery while walking on an Aberdeen beach.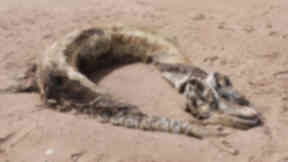 A mysterious carcass found on an Aberdeen beach has been identified as a whale.
The carcass was discovered on Tuesday by walkers Margaret and Nick Flippence while they were strolling on the beach near the Bridge of Don area. They reported the find to coastguards, who called in vets to investigate.
It had previously been reported in May when it was examined by Dr Andrew Brownlow from the Scottish Agricultural College who identified it as a juvenile pilot whale, probably at least five years old.
Dr Brownlow said: "I would speculate that it was a juvenile that became separated from its group and could not survive on its own."
When it was first reported, the carcass was lying in a different position and still had its jawbone attached. It has since decomposed further and has been moved by the tide onto its back.
The jawbone has been washed away and the whale's hard palate has been exposed, leading people to think that the carcass may be that of a mysterious prehistoric creature.
Pilot whales can be found in large numbers in the North Sea and are one of the commonest species to be found beached.