Families of Super Puma victims query decision not to bring charges
A fatal accident inquiry into the 2009 crash is told it could have been avoided if maintenance procedures were followed.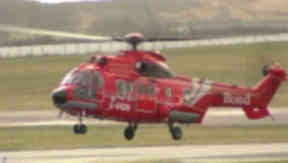 The families of 16 men who died in a North Sea helicopter crash five years ago have questioned why prosecutors decided not to bring charges before key witnesses had been interviewed.
Tom Marshall, the lawyer representing the families, told a fatal accident inquiry that the development was the single most shocking fact to emerge from the five weeks of evidence.
All 16 people on board the Super Puma Eurocopter, operated by Bond, died when it suffered a catastrophic gearbox failure and plunged into the sea off Peterhead on April 1 2009.
The hearing was told the manufacturers were informed a week before the accident that a metal particle had been found in the aircraft's gearbox.
Mr Marshall said that had Bond followed proper maintenance procedures in the wake of the discovery, the crash would not have happened.
Speaking outside the inquiry, Audrey Wood, who lost her son Stuart in the crash, said: "This has been the most horrific, traumatic five years of strung-out emotional upsets for all sixteen families and friends.
It has been a perpetual rollercoaster which we could not get off. And of course the length of time this case has taken to go to court has prolonged the grieving process."
Sheriff Derek Pyle is due to give his determination later.