OAP sex offender jailed after breaching court order for fourth time
71-year-old James Youngson admitted approaching children at Stonehaven's Feein' Market.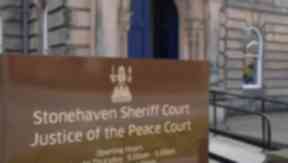 A 71-year-old sex offender has been jailed after breaching a court order for a fourth time.
James Youngson was sentenced to eight months imprisonment after he admitted breaching the order preventing him from contacting or going near children. 
Youngson was banned from frequenting any recreation, sporting or leisure areas used by children under the age of 16.
But on June 4, 2011, he was spotted by two patrolling police officers at Stonehaven's Feein' Market near to a "children's recreational area comprising of slides, bouncy castles and other entertainment for youngsters".
At around 11am Youngson, a retired postal worker, was clocked again, this time watching a group of young dancers performing in the town's Square.
The officers then noticed Youngson close to a sweet stall.
Police officers had described Youngson as being "fixated" with a group of young boys and when they searched the accused they found a leaflet advertising children's events at the market.
Sentencing him at Stonehaven Sheriff Court on Friday, Sheriff Peter Hammond said he had no option but to impose a custodial sentence because Youngson "hadn't learnt from previous community disposals". 
In July, Youngson's defence agent Denis Daun told the court it was the fourth time Youngson had breached the order.
The order was imposed after he was convicted of sexually abusing a five-year-old girl six years ago.
He previously admitted breaching the order last year by sending letters, birthday cards and poems to two girls under 16.
Earlier last year he was convicted of breaching the order, following a trial, by visiting Stonehaven beach during an annual fundraising event where youngsters were in attendance.
The first breach of the order came three years ago when he was admonished for breaching the order at Mineralwell Park, Stonehaven.