Major safety changes to North Sea helicopter operations announced
The new measures to include a ban on flights during severe weather conditions, all passengers wearing breathing equipment and improvements to pilot training.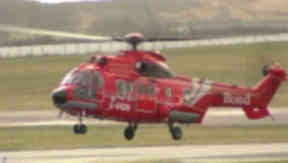 Major new safety changes are to be introduced to North Sea helicopter operations including all passengers wearing breathing equipment and flights being banned during severe weather conditions.
The changes, announced by the Civil Aviation Authority (CAA) in a report, include amendments to the seating of passengers, improved breathing equipment, changes to pilots' training and equipment improvements.
The measures follow a series of North Sea helicopter crashes in recent years including last August's Super Puma tragedy in which four people died and the 2009 Super Puma disaster which claimed 16 lives.
The changes are the result of a comprehensive review of offshore helicopter operations undertaken in conjunction with the Norwegian CAA and the European Aviation Safety Agency (EASA) and advised by a panel of independent experts.
Helicopter flights will be prohibited in the most severe sea conditions, so that the chance of a ditched helicopter capsizing is reduced and a rescue can be safely undertaken
The report also reveals passengers will only be able to fly if they are seated next to an emergency window exit to make it easier to get out of a helicopter in an emergency.
There will be important changes to the way pilots are trained and checked. And the CAA will take on the role of approving each offshore helideck, ensuring they meet strict safety standards.
CAA also announced that from April 2015, it will ban helicopter operators from carrying passengers on offshore flights "whose body size" is "incompatible" with the size of emergency push-out windows.
Also from April 2016, there will be a ban on offshore flights unless all occupants wear emergency breathing systems.
The review studied accident data from 1976 with particular emphasis on data from 1992 onwards as this is most representative of the current operations.
There were a total of 25 UK offshore helicopter accidents between 1992 and 2013. Seven of these accidents were fatal and resulted in 51 deaths.
The CAA is expecting helicopter operators to make improvements to helicopters and survival equipment including: fitting side floats; adding hand holds next to push out windows and improving life rafts and lifejackets
CAA chair Dame Deirdre Hutton said: "The safety of those who rely on offshore helicopter flights is our absolute priority. The steps we are announcing today will result in significant improvements in safety for those flying to and from offshore sites in the UK and potentially worldwide.
"We expect helicopter operators, the oil and gas industry and EASA to move forward with recommendations to them as soon as possible. For our part, the CAA is already taking forward actions directly under our control.
"We will monitor and report regularly on progress, so that people can have confidence that these important changes are being implemented as quickly as possible."
Frank Doran, Labour MP for Aberdeen North said: "I welcome the CAA report. It is a useful examination from the point of view of the regulator into some of the problems, issues and future requirements for the offshore helicopter transport service.
"I particularly welcome the comments made in relation to ditching requirements. The comparison with the Norwegian system of management of helicopter transport is welcome, but the action suggested by the report raises other questions.
"The Norwegian system has a direct link to the transport ministry as well the Norwegian CAA. That gives much more muscle to the reporting system.
"Also the establishment of this new committee poses the question of the need for the Helicopter Safety Transport Group, an oil and gas industry body."
In last August's accident, a Super Puma helicopter with 16 passengers and two crew aboard crashed into the sea on approach to Sumburgh airport in the Shetland islands. Four of the passengers were killed.
In May 2012, all 14 passengers and crew members on a Super Puma helicopter were rescued after it ditched about 30 miles off the coast of Aberdeen. It was on a scheduled flight from Aberdeen to a platform in the North Sea.
In October 2012, all 17 passengers and two crew escaped injury when their helicopter ditched in the North Sea en route from Aberdeen to a rig 86 miles out.
On April 1, 2009, 16 people died when a Super Puma plunged into the sea off the Aberdeenshire coast. The gearbox of the Bond-operated helicopter failed while returning from the BP Miller platform.
The tragedy came after a February 18, 2009 incident when another Bond Super Puma with 18 people on board ditched in the North Sea as it approached a production platform owned by BP. Everyone survived that incident.