City councillor avoids no confidence vote following Salmond ban row
At a council meeting on Wednesday, the motion was declared incompetent and not discussed.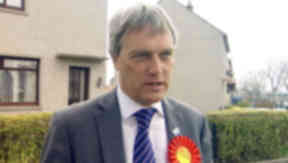 Aberdeen city council's finance convenor Willie Young has avoided a motion of no confidence following his attempt to ban Alex Salmond from the city.
At a meeting of the council on Wednesday, the SNP motion was declared incompetent and was not discussed.
It was decided that members required more notice for a no confidence vote to go ahead.
Councillor Young sparked a row after he suggested a motion that would see the First Minister barred from entering all council-owned facilities, including schools, parks and sports centres.
Cllr Young said the First Minister "abused his position" when he made an unannounced visit to Bramble Brae Primary school in the midst of the Donside by-election last year.
He warned the First Minister "would not be welcome" to use council land or property for official government business if his motion was accepted.
His comments were later dismissed as a "slip of the tongue" by deputy leader Marie Boulton.
But SNP members of the council proposed a motion of no confidence in Mr Young following the row.
They also criticised the finance convenor for voting against £7.5m funding coming to Aberdeen.
The SNP's leader at Aberdeen City Council, Cllr Callum McCaig, said: "In a dereliction of duty, Councillor Young voted against £7.5m funding for Aberdeen. He then turned Aberdeen into a laughing stock by putting forward plans to ban all Scottish Government ministers from council property. Councillor Young's actions were an affront to democracy. He has brought this city into disrepute and his position as Finance Convenor is utterly untenable.
"Ruling against a motion of no confidence seeks only to insulate Councillor Young from a growing public clamour for him to be removed from office. I have been inundated with emails from angry residents sick of the way he is trying to run this city and his disgraceful behaviour at COSLA.
"Councillor Young has put his party before the best interests of the Council and his petty vendetta against the Scottish Government since his defeat in the Donside by-election is making a mockery of Aberdeen council. The city can longer afford to have Councillor Young continue as Finance Convenor."