Fears 150,000 salmon have escaped Shetland fish farm after storms
Gales that have battered Yell fish farm 'are the worst in decades' say locals.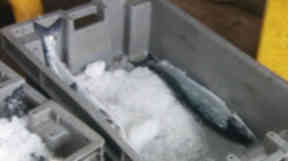 As many as 150,000 farmed salmon may have escaped from a fish farm in Shetland as a result of violent winter storms.
Meridian Salmon Group said on Wednesday that its Ness of Copister fish farming site had suffered serious damage.
The company said that almost half of the 364,000 fish in the eight cages were lost, most of them presumed escaped.
The January and February storms were so bad that farm workers did not manage to get to the site on the south tip of the island of Yell for two weeks.
A Meridian spokesman said on Wednesday the company was only now able to make a statement as it taken until earlier this week to complete its mandatory report to government agency Marine Scotland.
He said of the 154,569 fish lost, most were presumed to have escaped although there had also been some mortalities in the damaged cages.
The spokesman added it was impossible to say how many had escaped and then subsequently died.
The Meridian statement said: "Gale force winds and large swells caused a major failure of the mooring equipment which subsequently damaged a number of the eight cages on the site.
"Staff — including diving teams — have been working in very demanding conditions during the continued extreme weather to carry out repair and salvage operations and to try to assess the impact of the incident.
"Fish from three of the cages were safely removed during the initial salvage exercise. However, after weather conditions relented to allow a thorough site assessment, it has been determined that 154,569 fish were lost. All remaining fish on the site have also been removed to new locations."
The statement continued: "While it is widely accepted that we were dealing with exceptional weather conditions, local reports indicate the unrelenting gales that have battered the east coast of Yell are the worst in decades.
"However, losses like this are not acceptable and we will be carrying out a full review of our systems to ensure we have no similar incidents in the future.
"This will include discussions with mooring manufacturers and other mooring experts, after which, any recommendations for improvement will be implemented at the earliest opportunity." 
At Christmas 2011, twelve cages at is site near the isle of Uyea, south of Unst, broke free from its mooring and were washed out into the North Sea.
In that incident Meridian Salmon Group lost 300,000 fully grown salmon with a market value of around £3m.