Malcolm Webster refuses to plead for shorter sentence before judges
Wife killer Malcolm Webster repeated his denial that he murdered nurse Claire Morris in Aberdeenshire.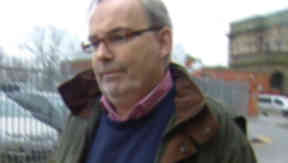 A murderer, dubbed the "black widower", refused to plead his case for a shorter sentence because he said it might make him look guilty.
Instead, Malcolm Webster simply repeated his denial that he murdered nurse Claire Morris, 32, who died in a fireball crash on a road near Kingoodie, Aberdeenshire.
He also denies attempting to murder New Zealander Felicity Drumm in a carbon copy insurance scam.
Judges had expected to hear Webster, 54, to try to convince them his 30-year minimum sentence was too harsh.
But defence QC Gary Allan said Webster had instructed him not to put forward any argument - because it might make it look as though he were guilty.
Lord Eassie sitting with Lady Clark and Lord Wheatley allowed Webster to drop his attempt to cut his sentence.
Mr Allan told the Court of Criminal Appeal in Edinburgh: "Mr Webster has consistently and vehemently denied his guilt of the crimes of which the jury has convicted him.
"His position remains entirely unchanged. He maintains he did not commit the crimes and the verdicts of the jury represent a gross miscarriage of justice."
The lawyer continued: "He has now instructed me that he considers that for me to advance any argument against his sentence might wrongly give the impression that he had changed his position and is now seeking simply to mitigate his guilt."
Webster has already lost an appeal against conviction but could still try to persuade the Scottish Criminal Cases Review Commission, which looks at possible miscarriages of justice, to listen to him.
Webster hoped huge insurance pay-outs and property left to him in his victims' wills would enable him to live a life of luxury.
But his days of top-of-the range cars, ocean-going yachts and designer clothes ended with a marathon trial in 2011 and a life sentence.
It took 17 years for justice to catch up with Webster. Lord Bannatyne described his crimes as "utterly appalling" and said the murder of Claire Morris was "cold blooded, brutal and callous."
Webster's schemes had been carried out for the basest of motives, financial gain, noted Lord Bannatyne and Webster had shown no remorse.
Nurse Webster wooed and wed first wife Claire Morris in a London hospital and in Aberdeenshire. Eight months later, in May 1994, she was dead.
Webster had drugged her, driven his car off the road with the unconscious woman inside and torched the vehicle.
He collected £200,000 but blew the cash within months, partly to indulge his hobby of collecting valuable antique clocks and barometers.
The charming conman moved to New Zealand where he married Felicity Drumm and attempted a similar murder scam in February 1999 near Aukland, which would have netted him £500,000 if it had succeeded.
Back in Scotland again in 2004 Webster began a new relationship with Ms Simone Banarjee, an executive at the Lorn and Islands Hospital in Oban.
Webster won her sympathy by pretending he was dying of leukaemia and shaved his head and eyebrows to further the pretence that he was undergoing treatment for the terminal illness.
He planned a bigamous marriage and Ms Banarjee changed her will to leave him everything, including her £270,000 house and her share of the luxury £53,000 yacht they owned.
She did not know that Felicity Drumm was still alive and still legally married to Webster.