Council's £19m bus hydrogen scheme speeds up with four new vehicles
Council leader Barney Crockett claims the fleet will cement Aberdeen's place as a 'leading energy city'.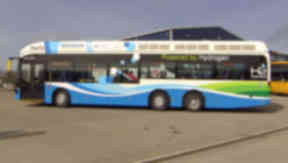 Aberdeen City Council's £19m hydrogen bus scheme has stepped up a gear with the delivery of the city's first hydrogen-powered buses.
Four buses in the ten-strong fleet have arrived in the Granite City - but passengers will have to wait until autumn before trying them for themselves.
Council leader Barney Crockett said the hydrogen bus fleet, the world's largest, will cement Aberdeen's place as a "leading energy city".
He said: "We will have the world's largest fleet of hydrogen fuel cell buses running on the Aberdeen's streets, which will help us to not only realise our aspiration of becoming a world-leading city for low carbon technology and maintain our position as a leading world energy city.
"This is the first step in a very important demonstration project which will help inform the growth and development of hydrogen technologies and the hydrogen industry - as well as a strong hydrogen economy in Aberdeen."
The fleet, which will be operated jointly by First and Stagecoach, will be supplied by Scotland's first commerical-scale hydrogen refuelling station, based at Kittybrewster in Aberdeen.
Transport minister Keith Brown added: "I am pleased to see the months of hard work on this exciting project paying off and hydrogen fuel cell buses arriving on the streets of Aberdeen.
"With only water vapour being emitted from them and high levels of renewable energy being used to create their hydrogen fuel, these vehicles will be an inspiring example to the people of Scotland of the benefits of our move to a low carbon future for transport."