Trump defends windfarm objection: 'I am fighting for the benefit of Scotland'
Billionaire businessman Donald Trump has sent a second letter to First Minister Alex Salmond over plans for an Aberdeen windfarm.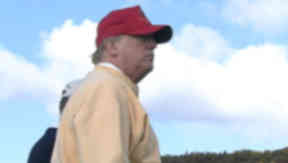 Billionaire businessman Donald Trump said on Thursday that he is "fighting for the benefit of Scotland" in objecting to plans for an offshore windfarm.
On Wednesday, the US tycoon wrote to First Minister Alex Salmond objecting to proposals to put up turbines near his luxury golf course at the Menie estate.
In a second letter to Mr Salmond, he described wind turbines as "ugly" and said he wanted to protect the Scottish coastline.
A planning application for an 11-turbine windfarm off Aberdeen Bay was submitted to Marine Scotland last month.
The European Offshore Wind Deployment Centre is a £150m joint venture by utility company Vattenfall, engineering firm Technip and Aberdeen Renewable Energy Group.
The Trump Organisation filed its objection to the planning application on Wednesday.
In the new letter, Mr Trump wrote: "I know that our recent objection has caused a huge amount of publicity about the horrible idea of building ugly wind turbines directly off Aberdeen's beautiful coastline.
"Please understand that I am not fighting this proposal merely for the benefit of Trump International Golf Links. Instead I am fighting for the benefit of Scotland.
"Every location in the United States with a magnificent coastline - nothing compared to Scotland - has successfully defeated these horrendous looking, noisy and inefficient structures."
He added: "In any event, I think that my mother, Mary MacLeod, who was born in Stornoway, would be very proud of what I am doing for Scotland. It is not only for my project, it is more to preserve Scotland's beautiful coastline and natural heritage."
Mr Trump's £750m development on the Menie estate on the coast is nearing completion after work began a year ago.
A Scottish Government spokesman said: "The Menie application was determined properly, according to Scotland's planning law and procedures, and it will be exactly the same for this proposed development.
"Ministers will assess every planning application on its merits, taking into account the views of consultees, interested parties and the public."