Minister quits Church over support for gay clergy
Aberdeen minister says he made the decision to leave the church with a 'heavy heart'.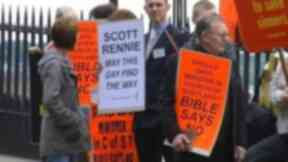 An Aberdeen minister has quit the Church of Scotland over its support for gay clergy.
Rev Peter Dickson of High Church in Hilton said he came to his decision with a "heavy heart" and "after years of heart-searching discussion".
Rev Dickson announced his decision on Sunday and will step down on November 30. His assistant, Rev David Gibson, will also step down over the issue.
It is understood a large number of the kirk's 500-strong clergy are also preparing to follow the minister and leave the church.
Mr Dickson said: "The Church of Scotland wants, sadly, to move on from the Bible and it has walked away from the teaching of Christ. This tragic drift away from the gospel makes a ministry like mine increasingly untenable.
"Other ministers and congregations who share our Christian beliefs remain in the difficult position of continuing to seek a way forwards within the Church of Scotland. We remain genuinely and prayerfully supportive of them.
"I thank God for the faithful people at High Church, Hilton who I have been privileged to serve, but now is the time to leave which, I pray, will be the most helpful course of action for all involved."
The Church of Scotland voted in favour of those in same-sex partnerships to continue to serve as church ministers in May at its annual General Assembly.
The decision only applied to clergy who have declared their homosexuality and were ordained before May 2009.
The future ordination and training of gay and lesbian clergy will be decided in 2013 when a theological commission publishes a report on the matter.
Mr Dickson had opposed the appointment of openly gay minister Scott Rennie in 2009 - an issue which has divided opinion within the Church of Scotland.
The Kirk Session of High Church in Hilton said in a statement: "The decision of the Church of Scotland to move away from the authority of scripture has left many in our church with a very real sense of betrayal.
"Throughout the last three years of disagreement with the Church of Scotland it has been our principal aim to maintain a united congregation at High Church, Hilton around the integrity of the gospel we proclaim.
"Regrettably the decisions of the Church of Scotland are increasingly to accommodate modern secular thought within the church. These decisions are not matched by dealing with the direct consequences that flow from them. Sadly, no suitable accommodation for those of us wishing to honour a traditional orthodox understanding of scripture has been found.
"The decisions of the Church of Scotland will inevitably mean that many in our fellowship will be unable to remain at High Church, Hilton or indeed within the Church of Scotland."