Missing fishermen return home after two days adrift in North Sea
The grandfather and grandson were found drifting 46 miles off the Aberdeenshire coast in their creel boat.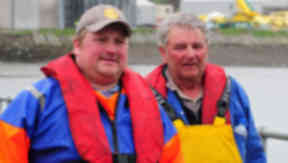 Two fishermen missing in the North Sea for two days have returned home.
Jim Reid, 75, and his grandson, David Irvine, 35, were found drifting 46 miles off the Aberdeenshire coast in their 16ft creel boat.
The Water Rail was reported missing at 11.50am on Tuesday after it failed to return to Gourdon at 9.30am. The vessel was found by the Dumfries-registered Sylvia Bowers at around 7.30am on Thursday morning.
The Water Rail sank while being towed back at 12.20pm, shortly before the fishermen returned to Montrose harbour in an RNLI lifeboat.
Speaking to STV News as they travelled back to the mainland, Mr Irvine said: "I'm glad the lads found us when they did, last night was cold. I even had the water up my sleeves.
"On our way home now, thanks to the crew of the Sylvia Bowers."
Mr Reid said he was "feeling well" with "no after-effects at all" after days at sea.
The fishermen survived for two days on a litre of water and two biscuits.
They became lost after their compass failed and say they do not blame the authorities for calling off the search
Video from the scene shows the two lost fishermen returning ashore. It includes background sound only.
David Gillespie, a crew member aboard Sylvia Bowers, said: "We saw them at the end of our watch, spotted them close to our bow.
"We saw them waving to us, slowed the boat and woke the skipper. We then turned towards them before taking the rope and hauling them alongside."
A widespread search for the Water Rail was called off on Thursday morning after two helicopters joined coastguard search teams and RNLI crews the day before.
An RNLI Aberdeen spokesman said the search was one of the longest in the history of the north east.
They said: "An extensive search was undertaken, but sadly nothing was found and the search stood down last night.
"Remarkably, the missing vessel and her crew were located this morning, safe and well, at sea by another fishing vessel.
"This was one of the longest searches in recent Aberdeen history, with Bon Accord being at sea for 24 hours over the two days."