25th anniversary of Chinook helicopter disaster which killed 45 men
This weekend will mark 25 years since the world's worst civilian helicopter disaster off the coast of Shetland.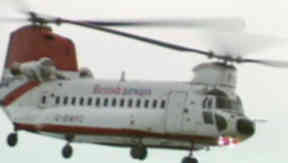 The 25th anniversary of world's worst civilian helicopter disaster will be marked this weekend.
The Chinook helicopter crash into the sea off Shetland, claiming the lives of 45 men and leaving only two survivors.
On Sunday it will be 25 years since the helicopter crash, the first major disaster to hit the country's North Sea oil industry.
The anniversay will be marked on a special STV News bulletin on Friday at 6pm.
The Chinook helicopter, owned by British International Helicopters, was carrying the workers from Shell's Brent Field platform to Sumburgh airport on November 6, 1986.
The aircraft had suffered a catastrophic mechanical failure.
By a quirk of fate, Eric Morrans survived the crash because he was sitting in the wrong seat.
Speaking directly after the disaster, he said: "The whole cabin seemed to shake violently and the back end dropped dramatically towards the sea with the nose obviously in the air.
"Looking towards me was this an audience of faces looking towards me totally shocked. I did almost nothing to save myself. It was just luck, the grace of God if you want to call it that."
On a routine exercise the coastguard helciopter spotted debris in the water.
Also speaking on the day of the crash, Gordon Mitchell, of Shetland Coastguard Helicopter, said: "When we were hovering there looking at this wreckage we spotted two survivors who were still on the surface.
"One was hanging on to a bit of wreckage and the other was hanging on to one of the dinghies."
IN DETAIL