Doctor guilty of 'life-threatening' mistakes against pregnant women
Dr Osarume Giwa-Osagie found to have breached safety regulations during two caesarean sections.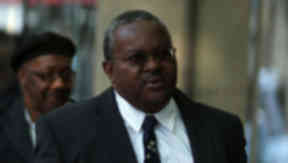 A doctor failed to recognise that a woman who lost major amounts of blood during labour was in a life-threatening situation, a panel has ruled.
Dr Osarume Giwa-Osagie did not call for help from a consultant when his patient lost 1.5 litres of blood during a caesarean section at Aberdeen Maternity Hospital.
A General Medical Council panel has ruled that the doctor breached safety regulations during his first weekend as a locum at the hospital in October 2009.
He will now have to wait until March to find out if he will be able to continue practicing medicine.
Dr Giwa-Osagie repeatedly told colleagues "It will be ok" and "Everything is under control" as the woman suffered a major obstetric haemorrhage.
Helen McFerran, a student who assisted during the operation told the panel that the doctor made the c-section incision with "unusual speed".
Consultant Lena Crighton, who was eventually called in to complete the operation, said the patient's heavy bleeding was probably caused by Dr Giwa-Osagie's "poor" dissection.
Panel chair Eileen Carr said: "The panel is concerned that you failed to recognise the serious condition of patient A and the risk to her life.
"The panel is satisfied it is not in the best interests of patients for a surgeon not to realise that a life threatening situation exists and is not under control."
A month later he repeated the same mistake at Salisbury Hospital in England when a woman lost half her circulating blood during a c-section. He was twice asked if he wanted to call for a senior colleague and refused both times.
The woman was rushed into emergency surgery by a consultant who found that Dr Giwa-Osagie had failed to stem serious internal bleeding.
Paul Ozin, acting for the GMC, told the panel: "Either of these patients could have lost their lives due to his incompetence, failure to recognise a serious clinical situation, unawareness of his limitations and reluctance to ask for help from senior colleagues."
The doctor has claimed he is the victim of fabricated complaints, commenting: "Everything smacks of a conspiracy."
IN DETAIL