Rampaging prisoners caused £246,000 of damage to jail during riot
Police Scotland have launched an investigation into the incident involving 41 inmates.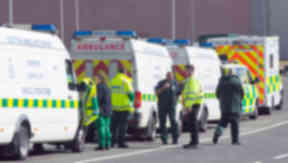 Prisoners caused more than £246,000 worth of damage during a 13-hour riot at Scotland's newest prison.
Police Scotland have launched an investigation into the incident at HMP Grampian, which involved 41 inmates.
The stand-off, which began at 9pm on May 13, was brought to an end by prison staff at around 10.30am the next day.
Police were called in to support Scottish Prison Service staff while ambulance crews waited on stand-by outside the Peterhead super-jail.
STV News has learned the estimated cost of repairing the damage to the prison now totals £246,677.
Prisoners caused more than £39,000 worth of damage to flooring and £16,300 to cell doors and windows. Around £8000 worth of damage was done to pool tables and exercise equipment.
A Scottish Prison Service spokeswoman said: "It would be inappropriate to comment in detail on what remains a live police investigation.
"The SPS is supporting Police Scotland in identifying those responsible and where there is sufficient evidence individuals will be reported to the procurator fiscal for consideration of prosecution."
The five most costly repairs to HMP Grampian following the May 13/14 stand-off
The incident came two weeks after protesting prisoners were involved in a two-hour stand-off at the jail. Four inmates confined themselves in the prison hall and refused to leave During the incident on April 29.
HMP Grampian admitted its first inmates on March 3, replacing HMP Peterhead and Craiginches.