Armed police policy faces further scrutiny after driver questioned
A businessman has claimed he was questioned by four armed officers in Aberdeen.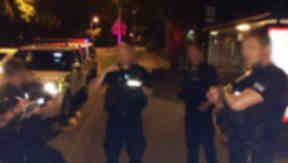 Scotland's chief constable Sir Stephen House is expected to be summoned before MSPs to explain why armed officers are attending routine incidents.
The controversial policy could face scrutiny by the Justice Committee amid concerns that Police Scotland is being "militarised."
It comes as a motorist in Aberdeen claims he was questioned by four armed officers in the city for an alleged traffic offence.
Businessman Kevin Forbes said he was pulled over by two police officers earlier this week over an alleged traffic offence.
He denies the charge and claims that while he argued his case at the roadside, two further officers then arrived at the scene. Mr Forbes said all four were carrying holstered pistols.
Police Scotland said they would not comment on an individual case, but superintendent Allan Cameron said: "Specialised officers are routinely deployed to support divisional colleagues and will assist in routine business, which would include enforcement of road traffic legislation.
"Any need for additional officers to support colleagues at an incident is not an unusual occurrence and is taken on a case by case basis."
The incident comes just days after three armed officers were photographed on their way to a disturbance at a restaurant in Inverness.
Police Scotland say there are 275 dedicated firearms officers across the country and say that they can be used to assist with local policing when not actively deployed.