More than 900 workers strike in pay dispute at Shetland gas plant
Total gas plant workers living in Shetland are demanding travel compensation.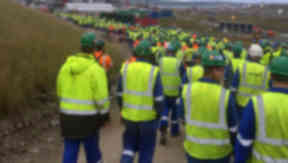 More than 900 workers at Total's Sullom Voe gas plant have downed tools in an industrial dispute over pay.
Earlier this year, operators Petrofac agreed to pay a £15 daily allowance to workers in shared accommodation or travelling from lodgings in Lerwick harbour.
But plant workers living in Shetland are now also demanding compensation.
A Petofac spokesman said: "We're very disappointed with what appears to be opportunistic, unauthorised action.
"We take the welfare of our staff very seriously and in previous disputes we have worked hard with staff and trades unions to resolve the situation.
"However, this is very different. The action doesn't appear to be supported by the trades unions and has completely ignored the formal process, set out in the Shetland Islands Agreement, for dispute resolution."
Prime Minister David Cameron had been due to visit the plant on Wednesday, but remained in Lerwick.
The dispute was resolved shortly before 4pm on Wednesday, with Petrofac management offering workers compensation for a previous unauthorised stoppage.
A Petrofac spokesman added: "We are pleased to have been able to resolve this issue.
"However, we have made it very clear that unauthorised action like this is unacceptable and that in future any issues should be addressed through the proper channels and that workers will not be paid for the time spent away from work today."