Body of last man hanged in Scotland exhumed at Aberdeen prison
Murderer Henry John Burnett was executed at Aberdeen's Craiginches prison in 1963.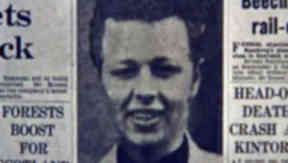 The body of the last man to be hanged in Scotland has been exhumed.
Henry John Burnett, 21, was executed at Aberdeen's Craiginches prison in 1963 after being found guilty of murdering his lover's husband.
Craiginches closed its doors to make way for the HMP Grampian "superjail" in January, and the site was earmarked for redevelopment.
But plans stalled when the Scottish Prison Service (SPS) were unable to locate Burnett's body, which was believed to have been buried in an unmarked grave within the jail.
Burnett's remains have now been exhumed, allowing plans for the redevelopment of the site to continue.
An SPS spokesman said: "A number of agencies have been involved in dealing with the remains of Mr Burnett.
"The remains were recovered from the prison grounds and a private ceremony was held at Aberdeen Crematorium on August 7."
Health secretary Alex Neil has announced a proposal to turn the prison into homes for public sector workers.
The SPS plans to sell the former jail to Sanctuary Scotland Housing Association, who will turn it into housing.
Mr Neil said: "There are record levels of staff working in our NHS with more nurses and doctors than ever before.
"We know that some local areas like the North East have experienced difficulties attracting staff and we need to think creatively and flexibly about helping where we can.
"Finding affordable housing in Aberdeen in particular has been noted as an issue that is causing difficulties in the recruitment and retention of staff.
"We hope these new homes will help NHS staff and other key workers find a place to live, so they can make a vital contribution to our public services.
"We will now take forward the plans with partners and draw up a key workers policy to ensure these homes are targeted at the public service workers who really need them.
"This will go alongside our substantial affordable housing programme, which is providing new homes for people not just in Aberdeen, but across Scotland."
Craiginches Prison in the 1960s
Burnett was given the death penalty after shooting and killing Margaret Guyan's husband Thomas on May 31, 1963.
He had been having an affair with Margaret and killed Thomas in front of her by shooting him in the head with a gun he stole from his brother.
Burnett proposed to Margaret after the murder. She accepted, but Burnett was arrested minutes after. He told police: "I gave him both barrels, he must be dead."
He claimed insanity during a two-day trial in July 1963, but the jury found him guilty.
Burnett was led to the gallows at Craiginches at 8am on August 15, 1963, where hangman Harry Allen sent him to his death in front of a handful of city officials.