Delight as Forres hospital reopens its doors for inpatients
Hospital has reopened with nine beds available, six fewer than previously.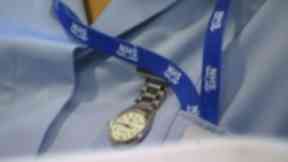 There was a widespread welcome this week following the reopening of a Forres hospital to inpatients.
Beds at Leanchoil Hospital were made available for the first time in almost a year on Wednesday after extensive renovations to the building.
An electrical fault in January forced NHS Grampian to transfer patients and staff to other units in Moray, and while it was initially expected the hospital would reopen in a matter of weeks there was extensive delays to repair works.
While the delays caused concern in the area with many believing that the Hospital was being readied for closure, NHS Grampian announced in September that remedial work would see beds becoming available again before Christmas.
The reopening was welcomed last night by Moray MSP Richard Lochhead, who had held meetings with NHS Grampian over the future of the hospital. Mr Lochhead said: "There has been real concern from the Forres community over the future of the hospital.
"I attended various meetings and met with and wrote to senior NHS Grampian officials on various occasions conveying these concerns.
"Leanchoil is a valued community facility and I am very pleased to see it reopening this week.
"The SNP are very clear that healthcare should be delivered as close as possible to the point of need with the obvious exception of some specialisms and it is important that community facilities like Leanchoil are supported."
The reopening of nine beds, a reduction from the 15 available prior to the closure, was also welcomed by Forres councillor Irene Ogilivie, who said: "The re-opening of Leanchoil is long overdue but is nonetheless very welcome.
"When the hospital closed in January there was a serious worry in Forres that we would never see it open again. Thankfully that has not been the case.
"Forres and the wider community really value the hospital, which was clearly demonstrated by more than 2,000 people who signed the petition to retain it.
"It is important, now that the facility has re-opened, that NHS Grampian continues to provide full support for the services being provided at Leanchoil and ensure it's long-term role in Forres."
IN DETAIL
NHS Grampian remain silent over Leanchoil
Leanchoil future to be discussed at public meeting