Travel disruption as high winds and rain batter across Scotland
A flood warning has been issued for Tayside and alerts for Aberdeen, Aberdeenshire and Angus.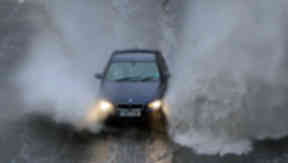 High winds and rain have caused widespread disruption to travel across Scotland.
A flood warning has been issued for Tayside and there are alerts across Aberdeen, Aberdeenshire and Angus.
Ferry sailings in the north and west of Scotland have been affected, with delays and cancellations nationwide.
Winds as strong as 75mph are expected across the north and north east of Scotland on Monday.
The 11.50am and 1.30pm Pentland Firth ferry sailings have been cancelled and further sailings are under review. The 9.45am and 10.30am Shainsay to Kirkwall ferries were also cancelled.
There will be no Shetland sailing from Aberdeen on Tuesday and Orkney sailings may be delayed.
Orkney police have warned the Churchill Barriers have been shut after water topped barrier two.
Skye Bridge is closed in both directions and Traffic Scotland have warned drivers to "use caution" on the Dornoch Bridge.
STV weatherman Sean Batty said the weather will be unsettled for most of October. He said: "After a quiet September we have now had two spells of very unsettled weather within a week, as October takes us into a more autumnal phase.
"Winds during the early hours of Monday were gusting in excess of 70mph around the Hebrides and extreme western coastal parts of Argyll.
"Tiree had a gust of 77mph around 3am but the strongest gust of the night, 84mph, was recorded around 4am on South Uist.
"Around the same time a gust of 122mph was recorded on the Cairngorm summit. The east of the country also experienced some strong gusts of wind, with a peak of 74mph at Inverbervie."
He added: "Heavy rain has also swept across the country with the wettest places being South Uist, Tiree and Tyndrum having nearly two inches of rain between 9pm on Sunday and 9am on Monday.
"The heavy rain and strong winds will become confined to Shetland and Orkney during Monday night, before coming back into the north again during Tuesday.
"The weather will be very wet across much of northern Scotland on Tuesday with the worst of the rain during the afternoon north of a line Aberdeen to Barra.
"The strongest winds during this time will be affect Shetland, Orkney and Caithness where gusts could reach 70mph.
"For the rest of the week the winds looks generally lighter, although there will be further spells of wet weather.
"It does look at this stage as if low pressure will dominate the weather for much of October and will lead to the unsettled theme continuing."
Residents in Inverness also lost electricity after a power cut in the early hours of Monday morning, following an earlier black out in the Dornoch area.
A Traffic Scotland spokesman added: "Strong winds, accompanied by heavy rain, will move eastwards across the UK on Monday.
"Gales or even severe gales are likely around exposed coasts and high ground in the west and north on Monday morning.
"The public should be aware of the potential for travel disruption from the strong winds as well as standing water on the roads and reduced visibility from spray and driving rain."