Man charged over Aberdeen City Gardens 'mail theft'
A 31-year-old man is charged over claims a resident voted multiple times in the public referendum on Union Terrace Gardens.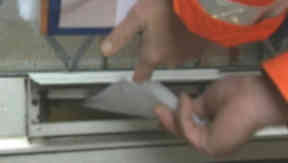 A man has been charged over claims that a resident taking part in Aberdeen's Union Terrace Gardens referendum voted multiple times.
A complaint was made to Grampian Police after a comment was posted on a social networking site by someone claiming to have voted for all of his neighbours.
The message claimed that a person had voted for all of his neighbours, and had extra voting packs at his disposal.
Grampian Police have confirmed that a 31-year-old man has been charged in connection with the incident.
A spokesman was unable to confirm what he has been charged with, but said it was not a charge relating to the theft of mail.
More than 40,000 votes have already been received in the public referendum over the contentious £140m City Gardens Project.
City residents are given the chance to vote by post, online or over the phone. Voting packs have been distributed throughout the city, many to tenement blocks with post delivered into communal areas.
Aberdeen City Council has insisted that the voting system is secure.
Police would be unable to investigate a claim of fraud, as the referendum is not part of an election, but can look into the potential theft of mail.
A Grampian Police spokesman said: "We have received a complaint regarding the theft of a mail. An enquiry is being carried out."
Crawford Langley, independent counting officer, said: "The theft of an individual's voting pack and the subsequent use of it in order to cast votes is a very serious matter.
"It is unacceptable and very important that people understand this will not be tolerated. We have therefore referred this matter to Grampian Police.
"If an individual contacts us to say they have not received their voting pack, we will issue a replacement but block any attempt to vote using the pack that was initially sent to them.
"So far in the process, we have received a small number of complaints from people who have not received their voting packs but there is no obvious pattern and there is not one area of the city where people have consistently complained about not receiving a pack."
IN DETAIL