Last day of voting in city gardens referendum
Aberdeen residents have until 5pm on Thursday to give their view on the £140m City Garden Project.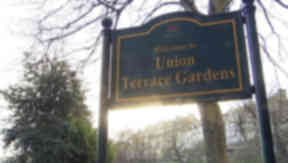 The public referendum over plans to transform the heart of Aberdeen has reached its final hours.
City residents have until 5pm on Thursday to cast their vote on whether to overhaul Union Terrace Gardens or keep the green space as it is.
Aberdeen City Council sent out 165,000 voting packs to households across the city in the middle of February.
By Tuesday, more than 40,000 postal ballots had been returned to the local authority and a further 29,000 votes cast either online or by phone.
The votes will be counted at Aberdeen's Beach Ballroom on Friday.
City businessman Sir Ian Wood, who kickstarted the £140m City Garden Project, has promised to listen to the public's views and withdraw his support if public approval is not forthcoming.
Crawford Langley, independent counting officer for the referendum, said: "When voting closes at 5pm on Thursday the electronic systems will be switched off and any postal ballot not in my hand by that time will not be accepted."
The Friends of Union Terrace Gardens group, opposed to the City Gardens Project, are also urging residents to have their say.
Chairman Mike Shepherd said: "We still come across a number of voters who can't make their mind up.
"They don't like the proposed design much and are nervous about further council borrowing, but on the other hand they would like to see something done."