Princess Royal visits hospital after £15m overhaul
The redevelopment of Chalmers Hospital in Banff began in 2008.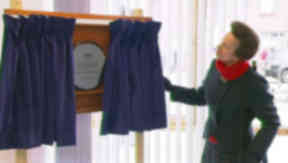 The Princess Royal has visited an Aberdeenshire hospital after it underwent a £15m overhaul.
Her Royal Highness was given a tour of the redeveloped Chalmers Hospital in Banff on Thursday.
She unveiled a plaque to mark the multi-million pound transformation which began in October 2008.
NHS Grampian chairman Bill Howatson said: "Our community hospitals, across the length and breadth of Grampian, provide quality care closer to home, wherever possible.
"We are delighted that this much needed redevelopment is now a reality. The enhanced services and team-working enable us to deliver quality care to the patients of Banff and surrounding areas all under one roof."
Area medical director Dr Ian Brooker said: "Our community highlighted the need to reinvest in our local hospital in 1996. I am very grateful to all the people, public and professional, who successfully built the case for the redevelopment.
"Continuing to provide health services to our patients during the redevelopment of Chalmers has been difficult. Working around a building site, for three and a half years, has at times been uncomfortable, but I thank the contractors and the staff for working together to achieve this excellent facility on schedule.
"Banff now has a modern hospital, with more space, more comfort, and a broader range of services than before. We now have a great facility for the future, from which to provide a greater range of diagnostic services and treatments."