Demonstration held over welfare of lions and tigers kept at farm
Three tigers and two lions are spending the winter at the Circus High School animal training centre.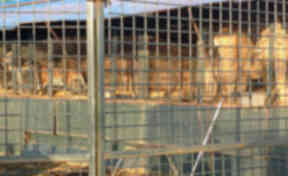 A demonstration has been held over the welfare of a group of lions and tigers being kept on a farm.
Three tigers and two lions are spending the winter at the Circus High School animal training centre near Fraserburgh in Aberdeenshire.
On Sunday a group of demonstrators gathered outside the farm in St Combs to protest the conditions the big cats are being kept in.
One protester, Christina Elliot from Peterhead, explained: "We felt we needed to let people know that keeping wild animals in circuses for entertainment is not acceptable in this century.
"Government is moving on it — but not fast enough in my opinion. The welfare can't be cared for properly when they are travelling around, and being made to entertain people is not right. Current legislation is 40 years old — they need revised to see if they are still relevant today."
Fraser Henderson from Aberdeen added: "It's less about the specific animals that are on site here, than it is about the overall condition of wild animals in circuses full stop.
"We're looking to see a push for legislation at Holyrood and Westminster. We have cross party support both at Holyrood and Westminster. We have the PM, the Deputy PM — all sorts of animal groups. The only thing that's slowing it down is the legislators. The ball is in their court — and protests like these will continue week after week, site after site until the legislation is enacted."
Wildlife charity Born Free had earlier said it is "extremely concerned" about the standard of accommodation the animals are being kept in.
The group claims the big cats have been seen "repetitively pacing" in their enclosure and have displayed aggressive behaviour.
However, the farm's owner, Thomas Chipperfield, said: ''We have had the council up to inspect the animals, a vet, health and safety officials and the police come up on a regular basis to make sure everything is OK. We are also subject to a strict licensing system from DEFRA.
"The council has now said its best we don't allow people to visit anymore, to save headaches. It's a shame because the people in this area are fantastic and it's not like us to turn people away."
Aberdeen SNP MSP Kevin Stewart has tabled a motion at Holyrood calling for a ban on animals being used in circuses.
The motion "calls on the Scottish Government to introduce legislation to ban the use of wild animals in circuses".
Aberdeenshire Council has inspected the premises and say no regulations have been breached.
They say they are happy with the health, welfare and security arrangements that are in place.