Pilot scheme for 'Clare's Law' system to tackle domestic abuse
The scheme is named after 36-year-old Clare Wood, who was murdered by her ex-boyfriend in Manchester in 2009.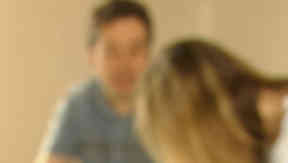 A pilot scheme to allow people to find out if their partner has a history of domestic abuse is to begin next week.
From Tuesday, November 25, Police Scotland's Disclosure Scheme for Domestic Abuse is being trialed for six months in Ayrshire and Aberdeen.
A similar system, known as "Clare's Law", was established in England and Wales earlier this year.
The scheme is named after 36-year-old Clare Wood, who was murdered by her ex-boyfriend in Manchester in 2009.
Ms Wood's father Michael Brown has welcomed the trial system, and justice secretary Kenny MacAskill praised his "remarkable" campaign as they met on Thursday to launch the new scheme.
Mr Brown who is originally from Aberdeen, said: "We've already seen a successful pilot of Clare's Law in England and Wales and the figures from Manchester in particular have been very positive, if somewhat bittersweet for me personally.
"This law is a victory for common sense and I am pleased to see a similar scheme now being piloted in Scotland.
"Should these endeavours save but one life here our efforts will have been worthwhile."
Protect lives
Justice Secretary Kenny MacAskill added: "No-one should ever have to suffer the pain of losing a son or daughter to violence. The strength and courage Michael Brown has shown following his daughter's death is truly remarkable and his hard work in leading the campaign for the development of a pilot scheme will help protect lives.
"Domestic abuse is an appalling crime and I believe that people in relationships should have the opportunity to seek the facts about their partner's background if, for example, they have concerns that they might have a history of domestic abuse.
"This pilot gives reassurance to the public and is backed by organisations such as Scottish Women's Aid, who are hugely supportive.
"It is important that the practical implementation is tested to ensure that it is suitable for Scotland's unique justice system. That's why I am keen to see how this scheme works in the two pilot areas and continue to work with Police Scotland to look at new ways of protecting the public which will deliver benefits for the wider community."
Police Scotland assistant chief constable Wayne Mawson said: "Police Scotland recognises the terrifying and debilitating impact domestic abuse has on victims. We know it can leave them isolated, vulnerable and often at significant risk.
"We are committed to providing a robust response to every domestic incident reported to us, and where we find evidence of a crime we will act consistently and decisively.
"However, we need to shift the focus to preventing these crimes happening in the first place and to keep people safe. The disclosure scheme will give people who may be concerned about domestic abuse the opportunity to ask about their partners' abusive past. It will give them the information to assist in making an informed decision on whether to continue in the relationship.
"I would encourage anyone who is worried their partner could be abusive, who feels intimidated, as if they are 'walking on eggshells' for example, to consider applying to the Disclosure Scheme for Domestic Abuse Scotland for information about their partners abusive past.
"The pilots launching in Aberdeen and Ayrshire on November 25 will give us an opportunity to assess the scheme before rolling it out nationally next year."