81-year-old woman celebrates success with solo art show
Ruth Lough's first ever solo show is the most successful exhibition an Aberdeen gallery has ever had.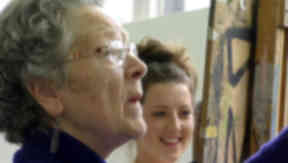 An 81-year-old Aberdeen grandmother is celebrating success with her first ever solo exhibition.
Ruth Lough's inaugural exhibition was the most successful solo show that the Rendezvous Gallery in Aberdeen has ever held.
The grandmother graduated from the Edinburgh Art School in 1953 but has spent a lifetime working on her art as a hobby.
Her talent was spotted when she walked into the city gallery looking for advice on pricing pictures. A solo exhibition, which has now sold out, was put together when gallery staff discovered a host of pictures hidden in the artist's attic.
Gordon Anderson, of the Rendezvous Gallery, said: "We'd never seen anything like it before. It was just incredible.
"She's a hidden gem, and someone who should probably have been exhibiting a long time ago. It's come to light now and people are enjoying it very much."
The octogenarian's passion for art was reinvigorated when she joined a life-drawing class with 17-year-old granddaughter Meg at Gray's School of Art where her pictures are also on display.
She said: "The word is magic. It feels not quite to do with me and I'm watching it."