'Taste test' reveals fish untainted by North Sea gas leak
The first results of an environmental assessment into the effect of the gas leak are announced.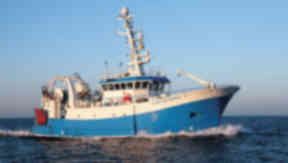 A "taste test" of fish caught close to the North Sea gas leak has found no indication that they have been tainted.
Scientists collected fish, water and sediment samples from the edge of a two-mile exclusion zone around Total's Elgin platform at the weekend.
The team recovered seven species of fish, using a bottom trawl.
The first stage of tests on the samples involved a specially trained panel of testers, who can detect hydrocarbon contamination in fish.
The team, working at the Marine Scotland Science laboratory in Aberdeen, carried out 210 taint tests, using both taste and smell to conclude that the samples were untainted.
Full chemical testing of all of the environmental samples continues, with results expected by the end of this week.
Richard Lochhead, Environment Secretary, said: "The environmental impact of this gas leak has been minimal so far, however it's important we take precautions and analyse all available data. Therefore it's reassuring that sensory testing of the fish samples gathered by the Alba na Mara have found they are untainted by hydrocarbons.
"Full chemical analysis work – including water and sediment samples – is ongoing and will provide further clarification on any impact.
"Marine Scotland Science have the necessary knowledge, skills and experience to carry out this work effectively, including the UK's only specially trained sensory panel.
"We will continue our monitoring activities for the duration of this incident, so we can assess any impact on the marine environment and respond as needed."
Stemming Operation
French oil giant Total sent a second helicopter to the Elgin platform, 150 miles east of Aberdeen, on Tuesday.
The company says there will be several flights to the platform in coming weeks, in preparation for a planned operation to stem the leak with heavy mud.
The helicopters are transporting specialist equipment to the platform, necessary to carry out the stemming operation.
European Regulation
Meanwhile an Aberdeen oil expert has warned against over regulation of the industry following the Elgin platform incident.
Professor Alex Kemp, from the University of Aberdeen, says European intervention could limit growth in the sector which is one of the most lucrative in Scotland's economy.
He says new proposals could see companies paying out huge amounts of insurance to cover potential leaks and spills, something that smaller companies may struggle to afford.
IN DETAIL