Political activist charged after mannequin registered in council elections
Renee Slater charged after a shop dummy was entered as a candidate in Aberdeen City Council election.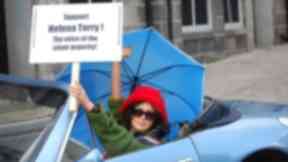 A political activist has been charged after a mannequin was entered as a candidate in upcoming local council elections.
The dummy, named Helena Torry, was entered as an Aberdeen City Council candidate for the city's Hazlehead, Ashley and Queen's Cross constituency.
The mannequin's "election agent", Renee Slater, was arrested by police and charged in connection with the incident.
It is believed that Helena was also seized by police from her city townhouse.
Speaking after being released from custody, Ms Slater said she was treated with "kindness and dignity" by police. She is due to appear in court next month.
She said: "This is not a police issue. This is an Aberdeen City Council issue. I think the police have much more important things to deal with than me."
She said Helena's election campaign may now be over but she has "other campaigns to take part in".
Asked what she might choose to get involved in now, she said: "Helena will have to make her own decision about that."
A Grampian Police spokesman said: "Grampian Police can confirm that a 63-year-old female has been charged in connection with an offence under the Representation of the People 1983 Act on April 19.
"A report will be submitted to the procurator fiscal in due course. As the matter is now the subject of active proceedings Grampian Police can make no further comment."