More than 20 roe deer killed in controversial cull
Measure is being implemented to pave way for tree planting scheme.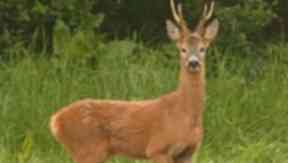 More than 20 deer have been shot at an Aberdeen hill to make way for a city council tree-planting scheme.
Aberdeen City Council is planting 100,000 trees at Tullos Hill and other areas of the city as part of its 'tree for every citizen' scheme.
Figures obtained under freedom of information legislation revealed that 22 roe deer had been shot since the beginning of 2012.
Protesters against the deer cull plan to stage a mock funeral for the deer at Tullos Hill this weekend.
Campaigner Suzanne Kelly said: "There is virtually no one in this area who wants this scheme. To learn that 22 of 29 deer which roam several different areas in this part of town have been destroyed despite the stated wishes of the residents is contrary to the most fundamental principles of democracy: and it is positively malicious.
"We were organising a mock funeral this Saturday at 9.30am. This will still go ahead. Unfortunately, it is no longer a mock funeral."
Aberdeen City Council had challenged the protesters to raise £225,000 to fund tree guards to prevent the cull. However only two pledges of money were made – one of £50 and one of £1 – before last year's May 10 deadline.
A spokesman for Aberdeen City Council said: "It is a statutory requirement of Aberdeen City Council to manage deer on all of its land and this would be taking place on Tullos Hill whether there was a tree planting scheme or not.
"The roe deer population on Tullos Hill was assessed as being much higher than the land could support, there is very little variety of vegetation growing and deer suffered as a result.
"Aberdeen City Council's ongoing deer management programme is carried out in accordance with all relevant legislation and established best practice, including Scottish Natural Heritage's (SNH) Code of Practice on Deer Management and the Wildlife and Natural Environment (Scotland) Act 2011, which increased the responsibility of land owners to manage deer on their land."