Firefighters tame major blaze at seafood factory in Peterhead
Crews worked overnight to bring the huge fire under control.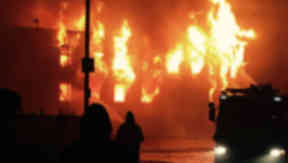 Fire crews have brought a blaze which raged for more than 10 hours at a major fish factory under control.
The fire at the North Bay Pelagic processing plant in Peterhead sent dark plumes of smoke across the Aberdeenshire town and saw nearby homes evacuated.
At its peak 10 fire units and several specialist crews tackled the flames at the industrial site in Kirk Square on Saturday.
Three crews remained on scene overnight to damp down the fire before investigators assess the damage and potential cause later, while police asked people to stay away from the scene.
A rest centre was set up at Peterhead Academy for people evacuated from their homes in Errol Street and road closures were expected to remain in place for some time.
Fresh Catch is owned by Northbay Pelagic in the north-east town of Peterhead, one of Europe's busiest fish landing ports. The company is reported to employ around 300 people.
Emergency services were called to the blaze just before 3pm yesterday and did not stand down until just before 1am when they had managed to get it under control.
Banff and Buchan SNP MP Dr Eilidh Whiteford said: "Thankfully Police Scotland say there no reports of casualties but homes have been evacuated and the priority now is everybody's safety.
"This will be a very uncertain time for the workforce and, once the extent of the damage is known, we will be in a better position to assess what kind of assistance might be required."
Aberdeenshire Council tweeted last night: "A number of roads around Peterhead town centre are closed and are likely to remain closed into Sunday.
"We would like to thank all emergency service personnel involved in tackling today's fire in Peterhead and keeping people safe."
Richard Lochhead, Scotland's Rural Affairs Secretary, said: "Northbay Pelagic is one of the largest fish factories in Scotland and a major employer in Peterhead.
"As we start the new mackerel season the Scottish Government stands ready to assist in the aftermath of this fire in any way we can.
"We are asking public agencies to work with the local authority and the business to see what support can be offered as a matter of urgency."