Review: Mary Torphins
The annual student show returns as a north-east take on Mary Poppins.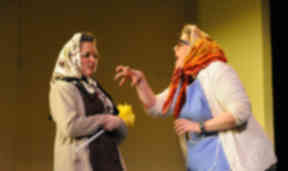 By Kirsty Doull
The Aberdeen Student Show has been delighting local audiences since 1921 and this year was no exception, with the production of Mary Torphins receiving a standing ovation on opening night at His Majesty's Theatre.
The tradition of parodying a popular story – this time Mary Poppins - and giving it a north-east twist has been a huge success for the show. Combining lots of Doric charm, "auld wifey" wit and highly talented students, this production could not fail to be a hit.
Rhona Johnston is perfect in the role of Mary Torphins, managing to exude all the poise and elegance of Julie Andrews, with the voice of a fishwife. She also holds the honour of being the first person in student show history to fly on stage. Her potential love interest is Alasdair Corbett who was a truly marvellous Dick Van Donald, with perfect comic timing and cheeky charm. Their duet of Me and My Scaffie was one of the highlights of the show.
Joe Whiteman gave a great performance as Brimmond Hill, the harrassed council leader struggling to cope with his unruly children. His solo performance of Ba'heid fae Balnagask perfectly showcased his incredible voice, whilst also being very touching. Also in great voice was Rachael Watson who played his long-suffering wife Rose Hill and whose rousing number was a great climax to act one.
The comedy double act was without doubt Vikki Davidson and Rhianne Reid who were the "auld wifeys". Their Doric banter and comic timing proved a huge hit with the audience. Also of particular note were the Hill children, played by Stephanie Longmuir and Christopher Cameron, who provided many laughs and excellent dancing skills.
Sophie Hamilton took on the mammoth task of both administrator and playing the part of the Provost. As Provost she was a sassy man-eater, whilst as the administrator she oversaw the running of the production and administration teams.
The production team, headed by Ryan Peacock, must be applauded for their hilarious script and lyrics. The chorus number of Aye Peckin' showcased the complexities of the Doric language in a homage to Supercalifragilisticexpialidocious. Not just brilliantly written, the number also contained lovely harmonies and perfect choreography and was a real showstopper.
The preparation for each show starts almost as soon as the curtain has fallen on the previous show and culminates in a gruelling rehearsal schedule period of some 200 hours in the four weeks prior to curtain up. Students from the University of Aberdeen, Robert Gordon University and Aberdeen College are invited to take part and have complete creative control over writing the script, casting, producing the show and finding corporate sponsors.
The student show also allows students to utilise the skills they have been honing during the course of their studies. Alasdair Corbett (Dick Van Donald) is also a Graphic Designer and his talents can be seen in the publicity posters and programme. Kyle Yeats, who is studying PR and Communications, put his skills to good use as one of the publicity managers. Whilst it is a huge commitment, Yeats notes that being part of the student show is well worth the effort:
He said: "All the students have worked extremely hard all year to pull off this amazing production. By now, after 200 hours of rehearsals, plus all the extra work and fun involved, everyone is shattered. But seeing all the hard work come together in front of an audience is amazing."
Last year's show, Sleepless in Seaton, raised a staggering £56,000 which went towards the grand total of £95,000 raised by the Students' Charities Campaign for local charities. This year, they are aiming to raise £100,000, showing that, not only is the Student Show an extremely worthwhile cause, its mix of local humour and talent makes it the best night out you will have all year.
Mary Torphins runs until Saturday with performances on Thursday at 7:30pm, Friday at 5pm and 8.30pm and Saturday at 2:30pm and 7:30pm.