437 'no-go areas' for ambulance workers identified across Scotland
The Scottish Conservatives label figures 'a disgraceful state of affairs'.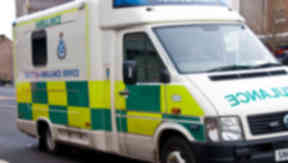 Ambulance staff must wait for police protection before answering emergency calls in over 400 "no-go areas" across the country, new figures have revealed.
The list identified 437 "red flagged" addresses across the country due to previous incidents where workers have been attacked or threatened.
The figures were obtained by the Scottish Conservatives who labelled the findings "a disgraceful state of affairs".
The party's justice spokesman David McLetchie said: "It is a disgraceful state of affairs when ambulance workers who dedicate their working lives to helping people cannot enter so many homes for fear of their own safety.
"Every employee has the right to work without fear of attack.
"It is hypocritical of the SNP to boast about crime levels in Scotland reaching a 32-year low when you have over 400 places in Scotland which are quite simply no-go areas for ambulance workers.
"People who threaten, or worse, attack emergency staff should be dealt with in the severest possible way.
"The Scottish Government must act on this immediately for the benefit of the wider public and the workers themselves.
"At a time when budgets are pressed, we cannot afford to have ambulances waiting outside addresses because the occupants are too violent to deal with."
Greater and Glasgow and Clyde had the most "red flagged" areas with 125 with that figure representing one address per 10,000 people.
Fife and Forth Valley topped the table per head of population at about one red flag for every 6000 to 7000 people.