Helicopter carrying 14 people ditches into the North Sea off Aberdeen
All 14 passengers and crew arrived safely back in Aberdeen after air and sea rescues from ditched Super Puma.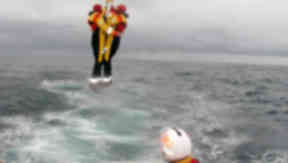 A helicopter carrying 14 people has ditched into the North Sea off Aberdeen.
All passengers and crew survived the crash, which emergency services are referring to as a "controlled ditching".
Everyone made it out of the aircraft and into a life raft where they were rescued by emergency services.
The helicopter, a Super Puma EC225, is sitting upright in the water.
It is understood the aircraft had left Aberdeen and was on a journey to the Maersk Resilient platform, and then on to Ensco 102, for oil operator Britannia, an umbrella company for Chevron/ConocoPhillips.
The crew broadcast an alert at around 12.30pm on Thursday saying they had been forced to ditch the aircraft into the sea about 25 miles east of Aberdeen.
Bond's director of commercial services Ashley Roy said the pilot made the emergency landing after an oil pressure warning light came on.
"It's a difficult procedure and the pilot and co-pilot should be commended for their skill in executing this procedure," Mr Roy said. "As a result of their skill, 12 passengers and the two crew themselves were unhurt and were able to return to their families today."
Two civilian helicopters were first at the scene. They were joined by RAF helicopters from Boulmer and Shetland and rescue crews from Aberdeen and Peterhead.
The first six casualties from the ditching were airlifted to Aberdeen Royal Infirmary shortly before 2pm. A second helicopter with three more people arrived a short while later.
The last five casualties were transported by life rescue boat to Aberdeen harbour but did not require hospital treatment.
Speaking at 3pm, A&E consultant James Ferguson told reporters that the men had escaped the ditching without major injury. He said they were all "shaken up" when they arrived at hospital.
He added: "All nine men admitted to Accident and Emergency department this afternoon are in good spirits and eight have been discharged. One patient has been kept in for observation as a precaution."
All helicopter flights from Aberdeen were suspended as emergency services responded to the incident. The automatic suspension was lifted later on Thursday afternoon.
Mr Roy said Bond would decide later on Thursday night whether to ground the fleet.
At a press conference in Aberdeen, he said: "It is the third incident in three years; however, thousands of hours are flown offshore in helicopters every year. Bond itself conducts over 40,000 flying hours per annum."
All flights for today were grounded after the incident and a review was due to take place later before a decision is made regarding future flights.
"This is an evolving situation and we are going to be reviewing our position later this evening," Mr Roy said.
Commenting on the incident, First Minister Alex Salmond said: "This is a very concerning time for the friends and family of the fourteen people on board the helicopter which has ditched in the North Sea.
"Incidents such as these remain very rare but do serve as a stark reminder of the dangers faced by those offshore workers who are required to use helicopters on a regular basis.
"Once all of those involved have been transferred ashore the priority will be for the appropriate authorities to investigate the causes of this accident and ensure the future safety of flying operations in the North Sea."
It has been confirmed that the helicopter is owned by Aberdeen operator Bond. It is the third time in three years that a Super Puma helicopter has ditched into the North Sea.
In February 2009, 16 passengers and two crew survived when an EC225 helicopter ditched near a BP installation around 125 miles east of Aberdeen.
Six weeks later another Super Puma helicopter crashed into the North Sea, this time leading to the death of all 16 people on board.
A report by the Air Accident Investigation Branch (AAIB) said the pilots failed to notice the helicopter was descending into the sea about 300m short of a BP oil and gas platform.
The model of Super Puma involved in this crash is different from that involved in the fatal incident.
Earlier this week Bond grounded its entire fleet of Eurocopter EC135 helicopters across the UK over safety concerns.
Among those affected were the Scottish Ambulance Service's two air ambulance helicopters that respond to emergencies across the country.
A crack was discovered on the main rotor hub, prompting a safety warning by the European Aviation Safety Agency (Easa).
Unite Union said they were "gravely concerned" about the ditching.
A spokesman said: "We are concerned that there have been problems with helicopter engines recently that have not been reported to the Helicopter Steering Group.
"Obviously the reason for the ditching has to be investigated, but Unite is calling for an urgent meeting of the Helicopter Steering Group to be convened."
Referring to the most recent incident, Jake Molloy, regional organiser with the RMT union, said: "If helicopters are landing in the North Sea, obviously you have to be concerned about safety but at this stage we don't know enough about what caused it."
Looking back on the previous incidents, he said: "It's still at the forefront of everybody's minds, which is why we need to know sooner rather than later what has caused this particular incident to allay any fears that people may have."
Maureen Watt, Aberdeen South & North Kincardine MSP said: "I am extremely relieved that this incident has been resolved without any loss of life and I know that relief will be shared by everyone in the north-east.
"Our oil and gas industry places the safety of its workers before every other concern and I am glad that the safety procedures in place for this kind of incident were successful in averting the kind of tragedy we have unfortunately seen on some occasions in the past.
"With everyone now safe, I am sure the priority will switch to establishing what went wrong so that all possible lessons can be learnt to prevent future incidents and improve the safety of everyone working offshore."
IN DETAIL
Picture Gallery: Images showing the dramatic rescue of 14 people after helicopter ditched in North Sea