Childcare Provision
Support for working parents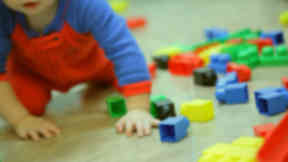 The council runs various childcare provision throughout the area. Information on childcare providers, childcare activities and other aspects of childcare can be found using Scottish Childcare's childcare information database.
If you have any queries, contact Aberdeenshire Council's Family Information Service. It provides free, impartial advice on childcare and related services. All enquiries to the Family Information Service are confidential.
Family Information Service
Crichiebank Business Centre
Mill Road
Port Elphinstone
Inverurie
Aberdeenshire
AB51 5NQ
Tel: 0800 298 3330
Email: afis@aberdeenshire.gov.uk
Aberdeenshire Childcare Partnership
Aberdeenshire Council works with private and voluntary sectors to create new childcare provision and expand existing services. It also tries to promote childcare training in the area. They provide courses and training opportunities for childcare staff, from food hygiene courses to music appreciation classes.
The Partnership is also the driving force behind funding for projects benefiting children across Aberdeenshire, such as new nurseries, out of school clubs and providing childminders with grants to purchase new toys and play facilities.
To find out about working in the childcare sector, training and funding requirements and opportunities and other childcare-related information, visit the Aberdeenshire Childcare Partnership's website or contact them directly.
Aberdeenshire Childcare Partnership
Crichie Bank Business Centre
Mill Road
Port Elphinstone
Inverurie
AB51 5NQ
Tel: 01467 894020
Fax: 01467 894025
Email: childcare@aberdeenshire.gov.uk
Want more information on finding or becoming a childminder? The Scottish Childminding Association (SCMA) can also help.
The Early Years Framework
The Early Years Framework programme's key focus is tackling the effect Scotland's long- standing problems of poverty and inequality has on its children.
What happens to children in their earliest years has a major impact on their outcomes later in life. Babies born into difficult and stressful family environments can in many cases be impacted well into adulthood. It can lead to serious disadvantages in terms of health, wellbeing, educational attainment and life chances. The framework prioritises the early years to give our youngest children the best possible start in life.
More information on the Early Years Framework (Part One and Part Two) is available on the Scottish Government website.
Nursery Places
All children are entitled to a free part time nursery place in line with Scottish Government guidance.
Details on how to apply for a place, when your child will be eligible for free entry, and application forms are available on the Aberdeenshire Council website.
For further information on pre-school education, contact the Peterhead helpline.
Peterhead Network
Katrine Duncan
Admin Assistant
Buchan EL&L Office
Old Infant Building
Prince Street
Peterhead
AB42 1PL
Tel: 01779 483131
Fax: 01779 470390